This absolute thumper of a paddle was commissioned after its owner tried my heaviest demonstration paddle during one of the fabulous TEEZ newbie-friendly play parties in Sydney last year and asked about getting something even heavier. The result was this 840 gram creation made from Cooktown ironwood with lines of Huon pine running through it.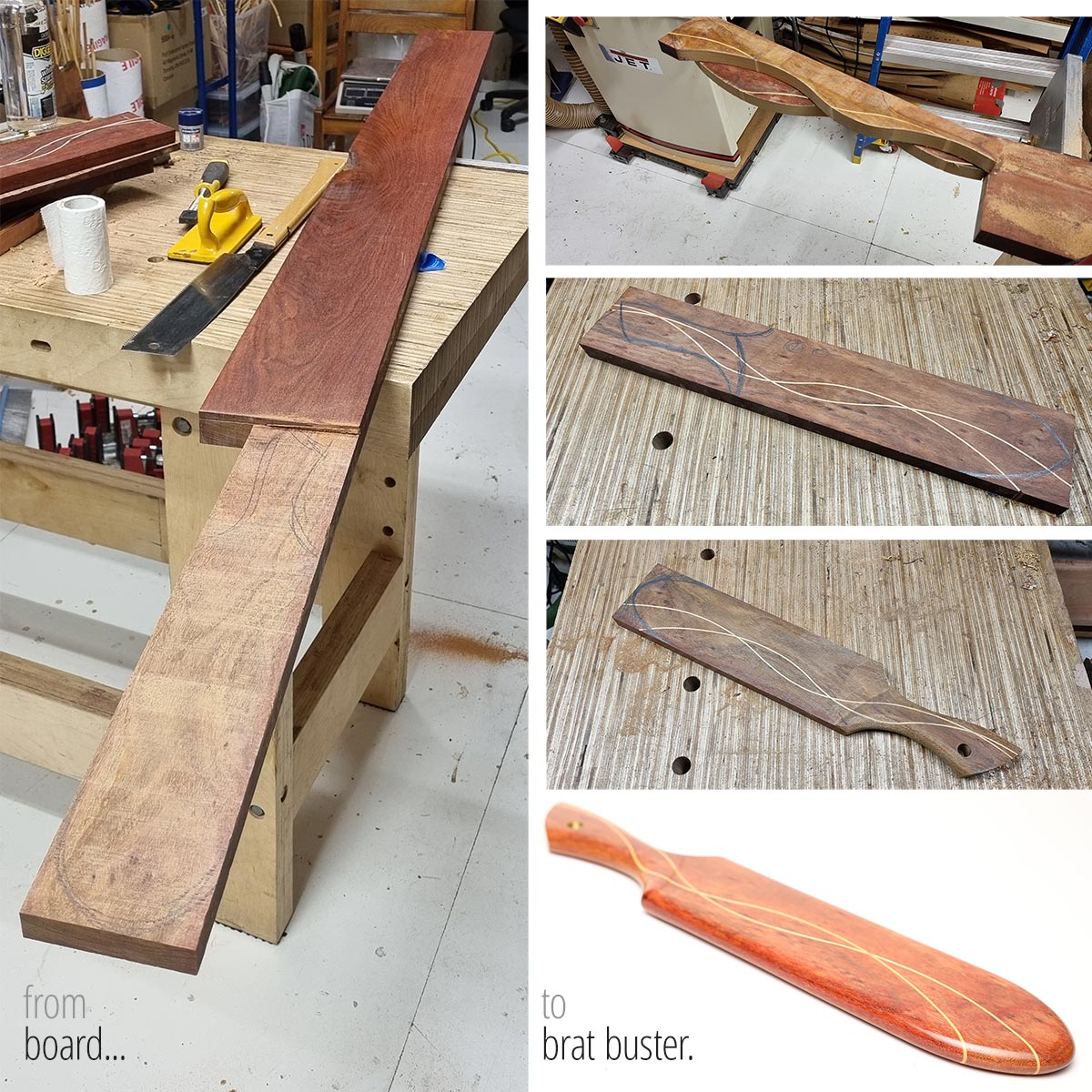 Cooktown ironwood is found across northern Australia, with this particular piece sourced from the Northern Territory. The timber is 1.2x heavier than water, making it one of the heaviest timbers around. (Waddywood, with a density of 1.4x is often considered the heaviest.) You can see the original board this paddle was cut from sitting on my workbench in the photo above. It weighed 17kg before cutting!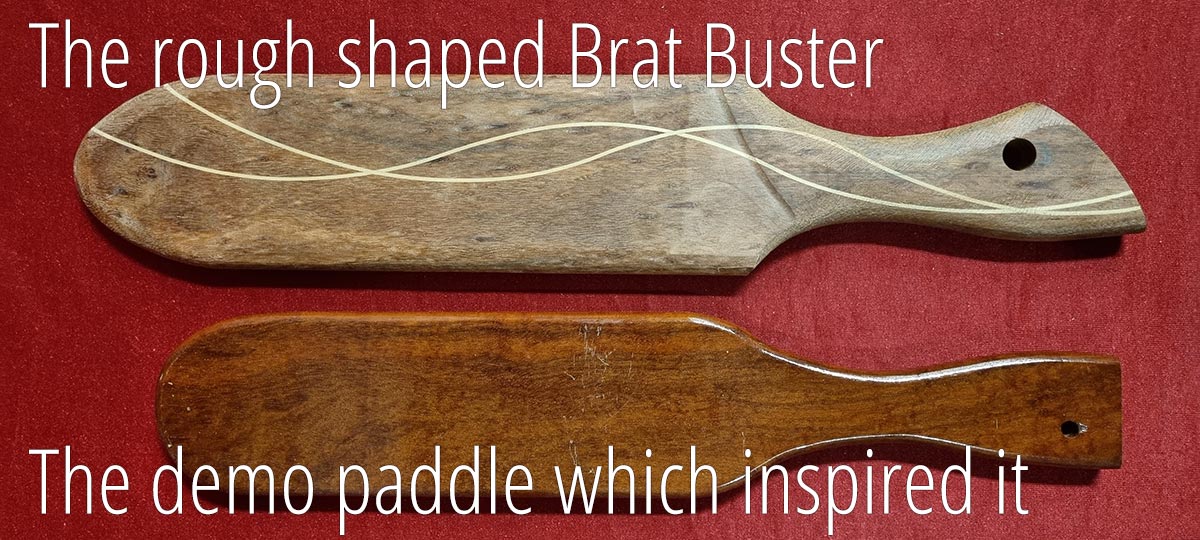 The primary design brief for this paddle was for it to be heavy and of a similar shape to the straight sided frat-paddle style demo paddle. The demo paddle is made from Cooktown ironwood and the look of the timber appealed to the commissioner so we decided to stick with the same timber for this paddle. You can always make a paddle heavier by making it thicker, longer or wider, but to keep things to a manageable and elegant size nothing beats using a piece of ironwood!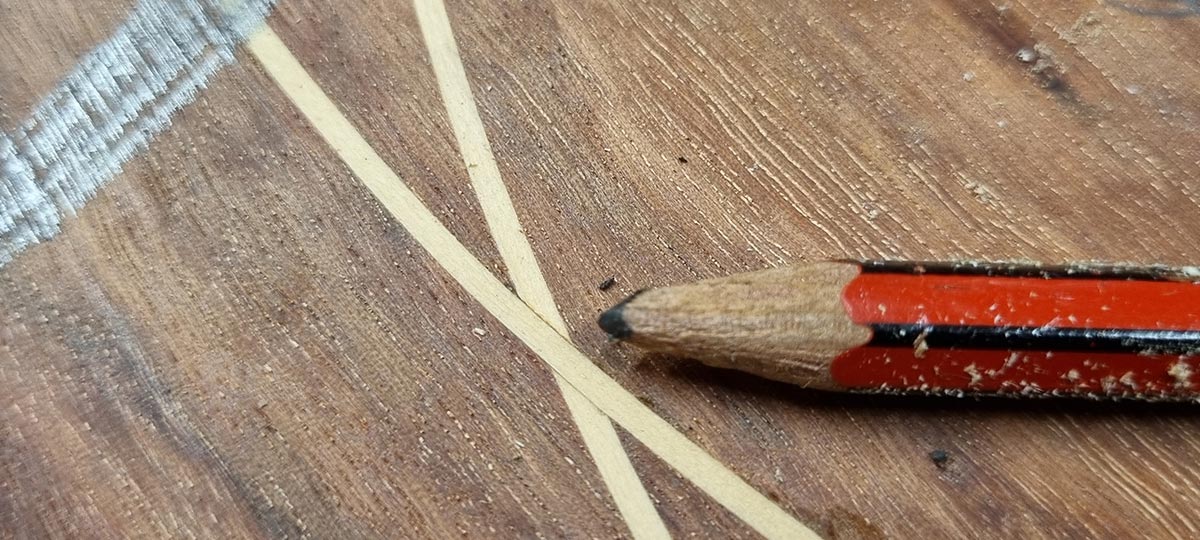 Adding lines to a paddle is generally a purely aesthetic decision as they have no meaningful impact on the strength or feel of the paddle. I chose Huon pine as I thought lighter lines would look better than darker ones, and Huon pine has a lovely yellow/golden hue which complements the rich colour palette of the ironwood perfectly. The photo above shows the timber in a roughly sanded state. The lines themselves are about 1.5mm wide.
The Brat Buster lettering required 201 brass pins, each 0.5mm in diameter and hammered into individually drilled holes one at a time - definitely an exercise in patience and steadiness of hand.
Such tiny pins provide a certain subtlety to the overall appearance of the paddle as they are only readily visible when viewed with the light directly reflecting off the surface towards you.
Much debate was had between me and myself about whether adding so many letters to this paddle was a good idea, given the ironwood itself has a lot of character and it also had the Huon pine lines running through it. I was concerned that letters created with the larger brass pins I normally use might have cluttered the overall appearance of the paddle. In the end I went with fine pins. Both I and the paddle's owner were thrilled with the result.
I like to take progress photos such as these and share them with the future owner as I work on commissioned paddles and canes. Commissioning a new toy should be an enjoyable experience in its own right, not just a purchase.
My thanks go to the anonymous connoisseur who commissioned this paddle, and the brat who apparently requires busting.
You can read more about commissioning paddles and canes here.