There are only four sleeps to go until this Saturday's Newcastle Labyrinth Fey and Fantasy Play Party. It's time to show your true elf! There are a few tickets remaining. Click here to apply. [5 Aug UPDATE: Tickets are now sold out.]
Labyrinth has been running monthly kink parties since February 2022 and has rapidly become a much loved fixture on the Newcastle and Central Coast kink scene calendar. In addition to parties the Labyrinth organisers also host kink education workshops and special events such as Labyrinth Littles for the littles community. Check the Newcastle Labyrinth website for all the latest news and event listings.
To the parties themselves... The atmosphere is always very friendly and welcoming. Guests are greeted at the door on arrival and newcomers are given a tour of the venue by one of the lovely Labyrinth monitors. (I know I'm slightly biased being an occasional Labyrinth monitor myself, but they truly are all lovely :) The house rules are posted on the walls around the venue and staff and monitors are available throughout the evening to assist and answer any questions you may have.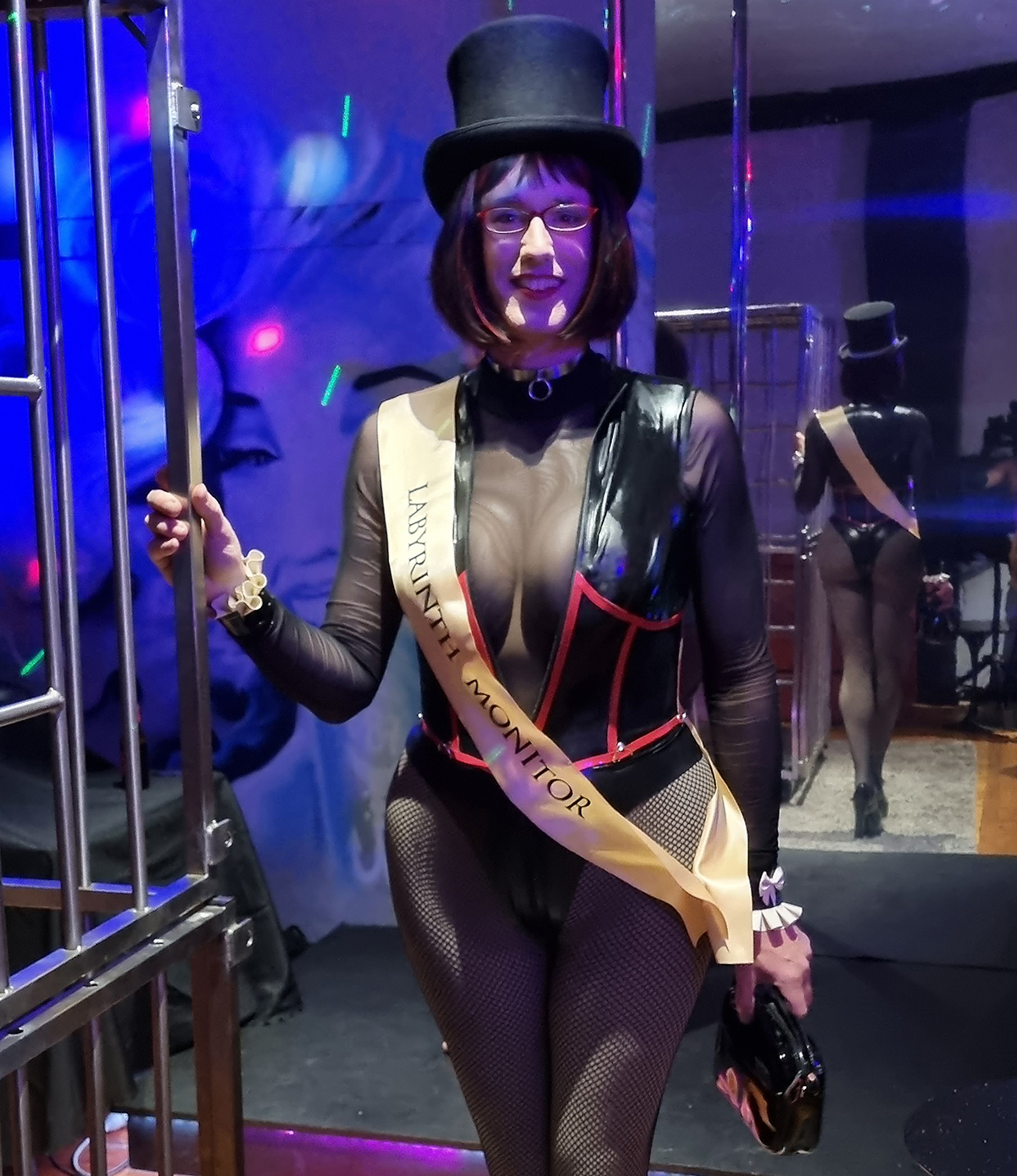 One of the lovely Labyrinth Monitors :)
On the ground floor you'll find a play space, a big pile of squishy cushions for when all you need is a cuddle puddle, a cloak room/changing area for those needing to get changed at the venue, and a small outdoor smoking area. Then it's up the stairs to the bar and lounge area and several rooms dedicated to various forms of play.
The configuration varies from party to party, but generally there are a couple of rooms set up for impact play with crosses, spanking benches etc, a room for wax play and four rooms with beds decorated in different themes, some of which have tie-down points and other kinky additions. One of the bedrooms generally becomes a chill-out space where people relax post-scene, catch up with friends and perhaps even plan future scenes.
Party themes vary from month to month. Many guests fully embrace the themes with some amazing outfits, but 'normal' kinky attire is also more than welcome. Arriving in your street clothes and getting changed at the venue is absolutely fine.

The 2022 Labyrinth party themes.
Many guests start their evening in the bar/lounge area socialising and catching up with friends before heading to one of the play rooms to indulge their kinks.
Doors to all the rooms remain open during the evening. Depending on the room and what's happening within, access to its confines may be limited to those participating in a particular scene, but guests are free to observe from the doorway. The larger impact play space normally has seating for several guests to watch the play from within the room.
As is the case with many Australian kink parties these days alcohol is BYO and placed behind the bar where the fabulous bar staff will serve you your drinks during the evening. RSA is taken seriously, so if a big night of drinking is your thing, this event is probably not for you. Soft drinks and lollies for that post-scene sugar hit are available free of charge.
Some parties have special performances during the evening, including shibari, frozen flower flogging, and even a live body casting! The casting was part of a raffle in which the winner had their derriere immortalised in cold cast aluminium after spending about 45 minutes getting covered in silicone goo in front of a most appreciative audience of party goers!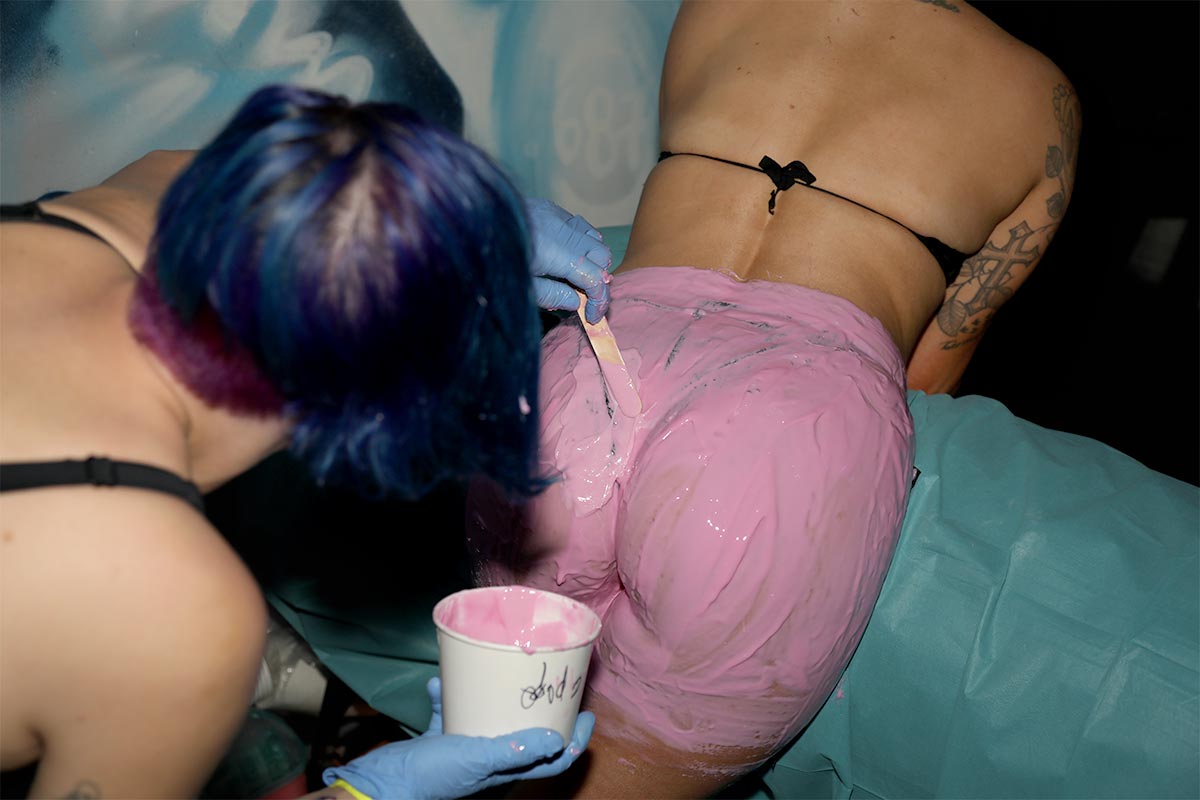 Live body casting by the very talented Claire Tennant of Kink Casting. Check out Claire's website for details or browse her Instagram page for lots of pics of her of amazing kinky castings
Labyrinth parties are held at Club 687, 687 Hunter Street Newcastle. There is plenty of free street parking a short walk from the venue. For those considering an overnight trip there are several hotels within walking distance and the Newcastle Interchange train station is a five minute walk away.
If you have any questions about Labyrinth events get in contact with them via their website. I hope to see you there one day.