Friday the 18th of October 2019 was the date of the innaugural After DARQ Fetish Market, the first kink market to be held at Club Fusion in Sydney's Kings Cross, and the first one to be held in Sydney since the final Fetish Market at the now closed Sanctuary back in April 2019.
The doors opened at 6pm and visitors were greeted with 20 stalls spread throughout the building with everything from impact toys to candles, clothing, shoes, rope, leather goods, piercing, and hair braiding. At 10pm the front doors were shut but those inside continued shopping for a good three quarters of an hour, such was the size and enthusiasm of the crowd.
Club Fusion are planning to host After DARQ Fetish markets approximately four times per year, with the next scheduled for Friday 7 February 2020.
Here's a little tour of some of the kinky goodness on display at the first market...
Bad Ass Leather had a huge range of leather floggers on display, each with their signature leather plaited handles. They also a few canes and some chain maille jewellery.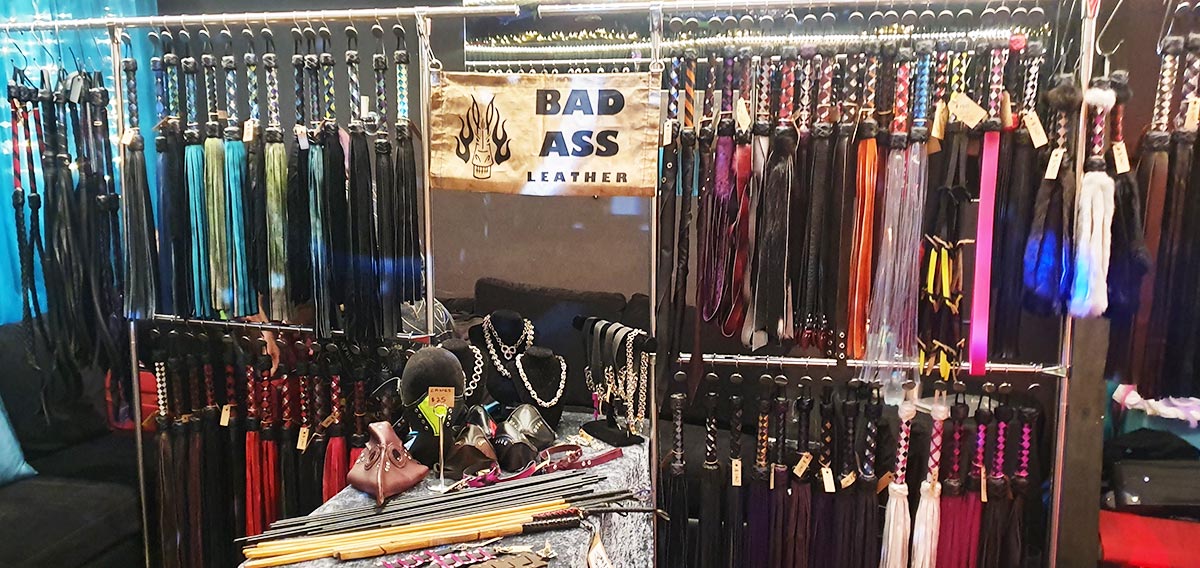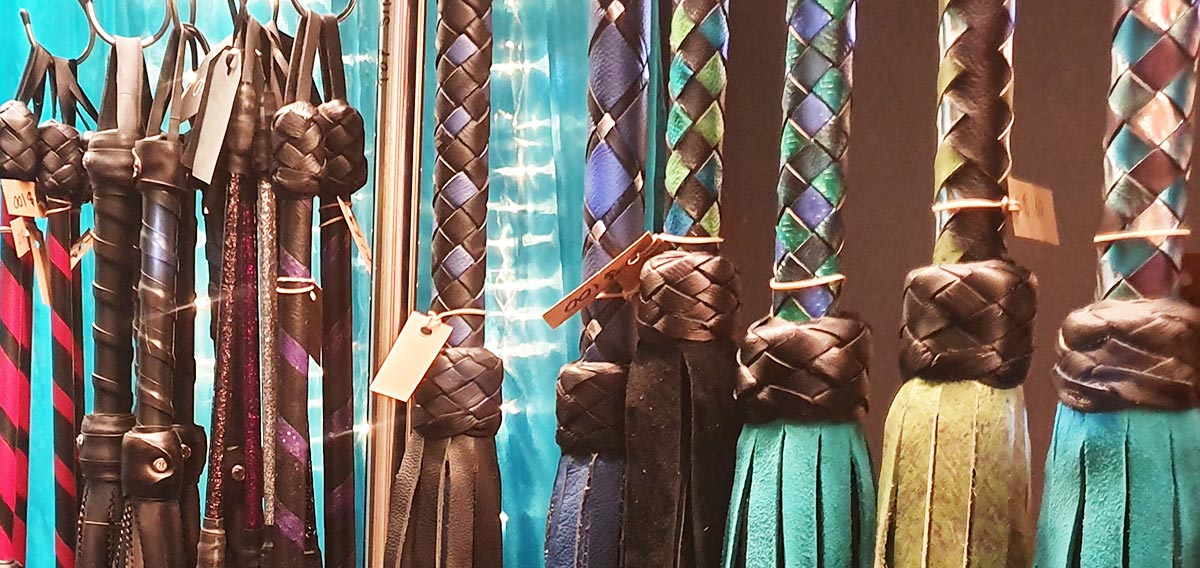 ---
Exotic Footwear came all the way from Melbourne with a fine collection of fetish styled shoes and boots to satisfy the needs of all the shoe lovers amongst us. Quite a few people left the market a few inches taller than when they arrived after picking up a new pair of stiletto heels during the evening.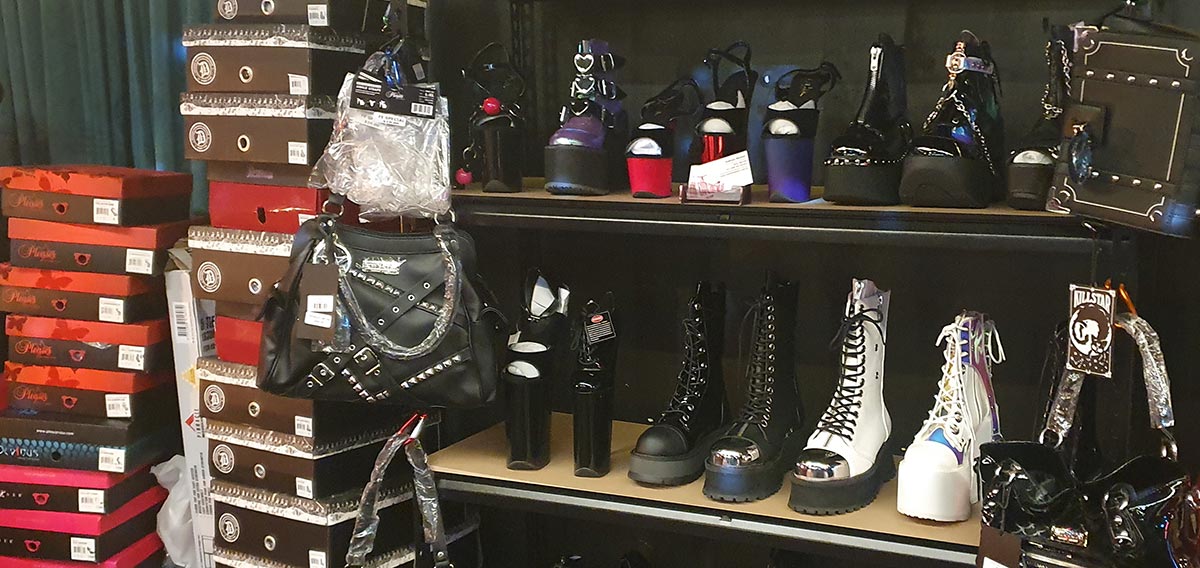 ---
Kink by Revell is probably best known for leatherwork - which included floggers, whips and blindfolds on their stall near the stage. They also had some chain maille necklaces and accessories on display.
---
This is Coco had an eclectic collection of clothing and footwear on display on the main stage.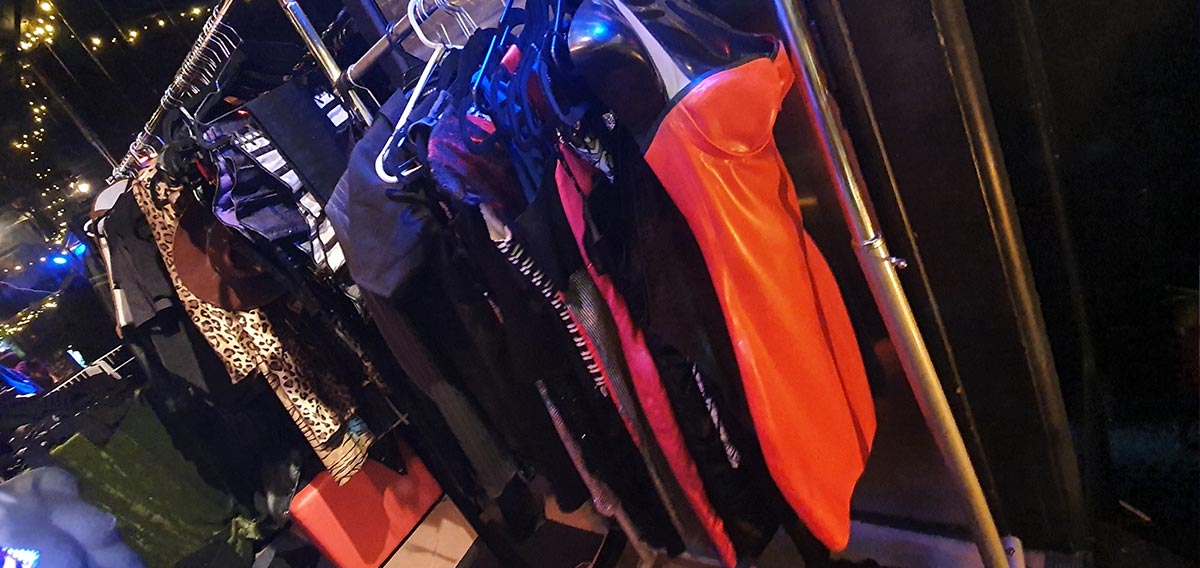 ---
The Braid Bar were offering their hair braiding services during the evening in the main room. If you've ever felt like you needed a sharp new hairstyle during the course of the evening this was the perfect opportunity!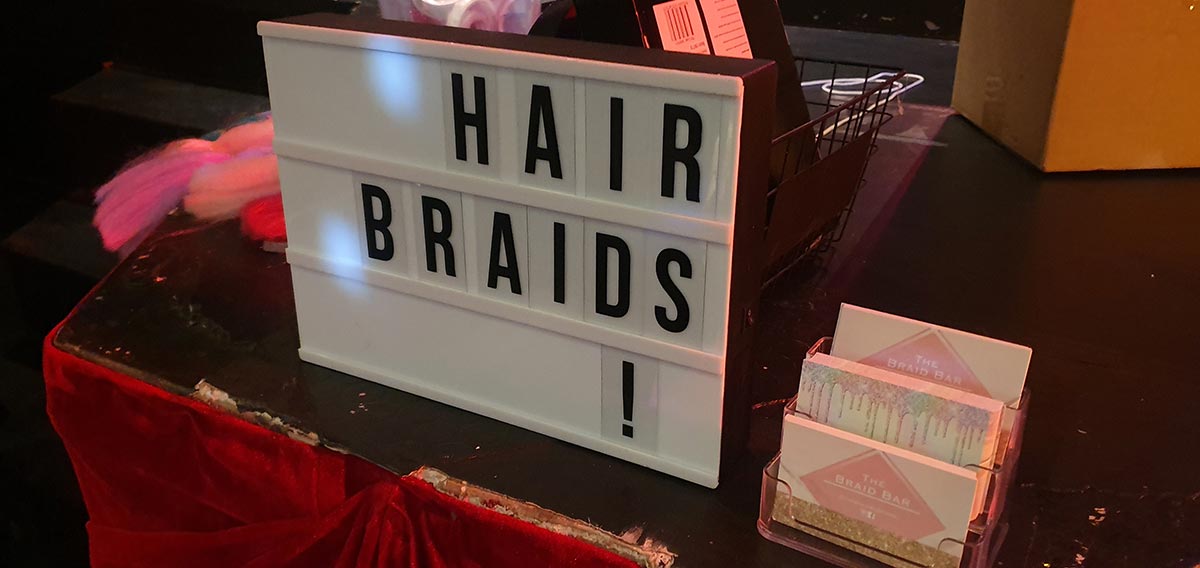 ---
Pastel Poisons had a great selection of their super colourful painted paddles on show, and some new floggers made with turned wooden handles and various materials for the falls.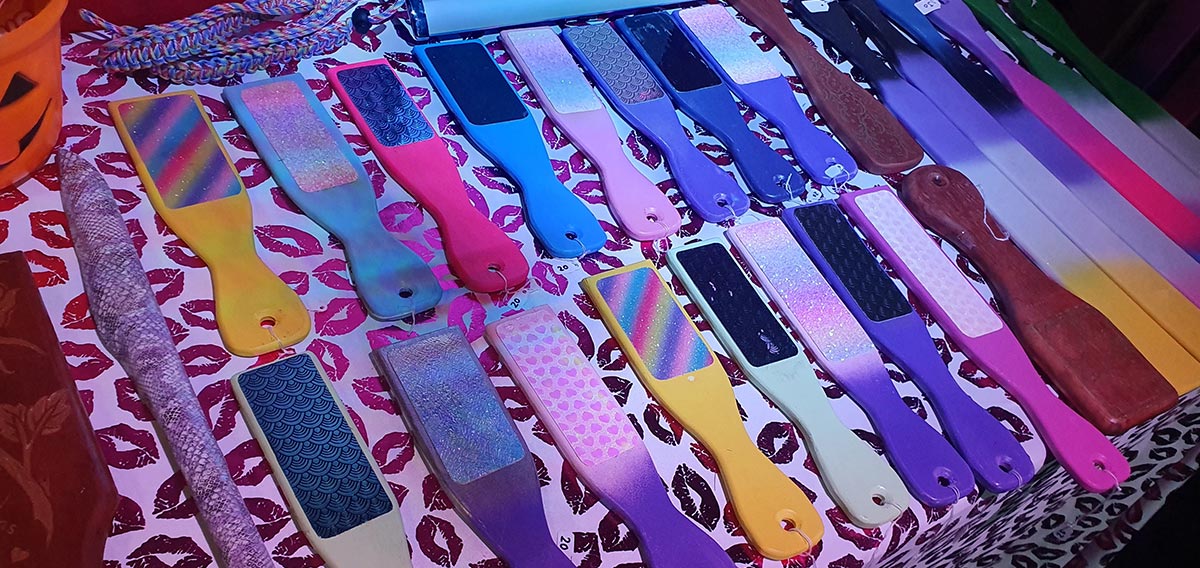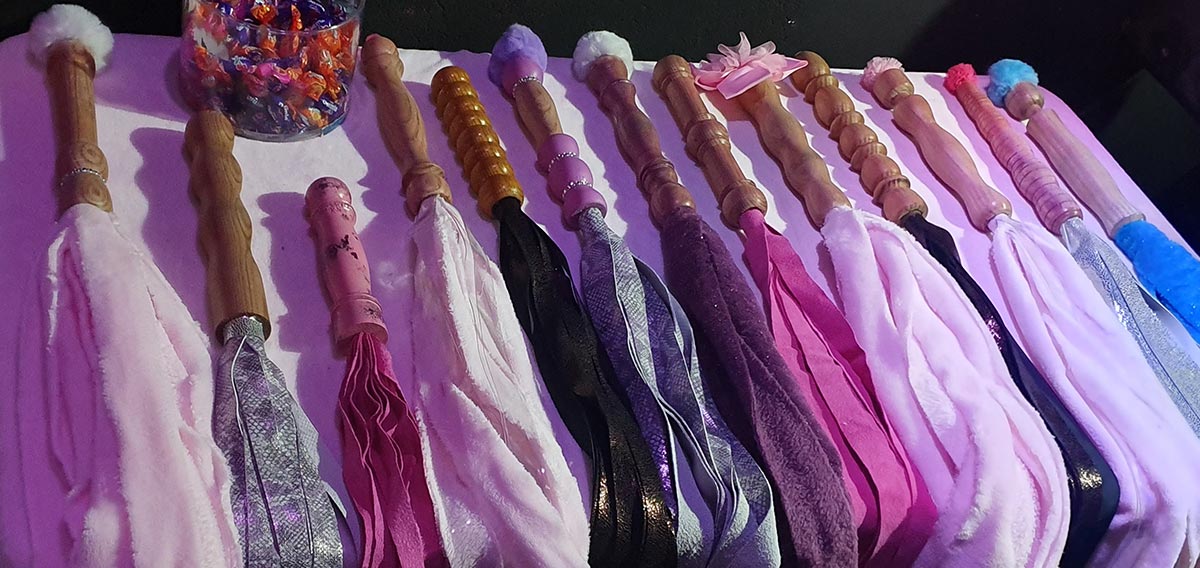 ---
Gold Dragon Designs had some very impressive leather creations available, including paddles, straps, a tawse, and their always stunning Dia de los Meurtos inspired bag.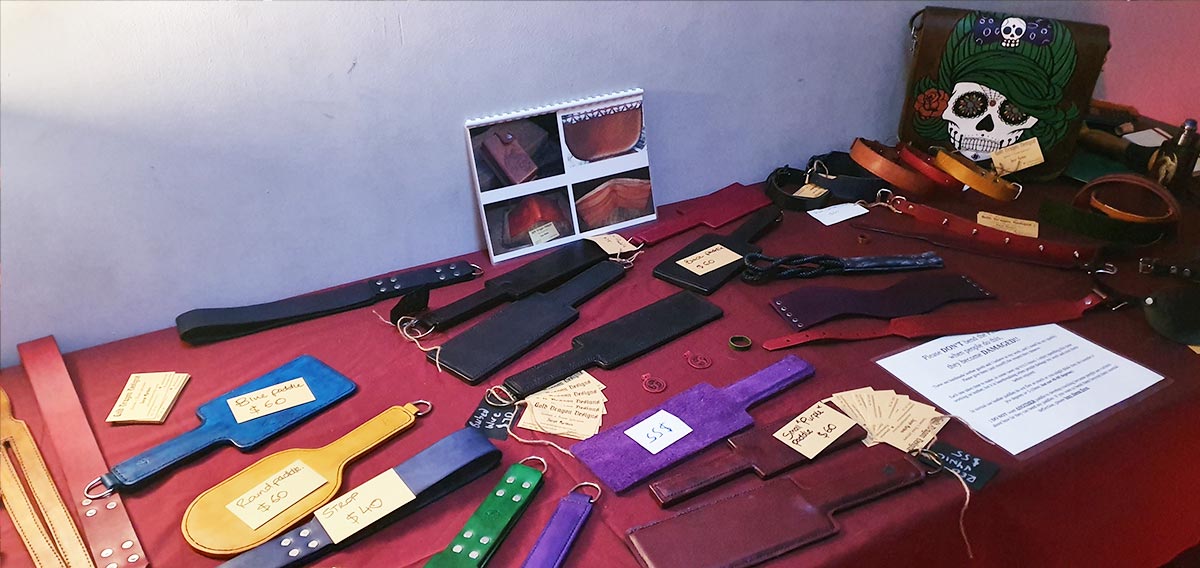 ---
Ring Dragon had his range of wooden impact toys and restraints available, including thumb cuffs and stocks. He also makes pieces of wooden dungeon furniture.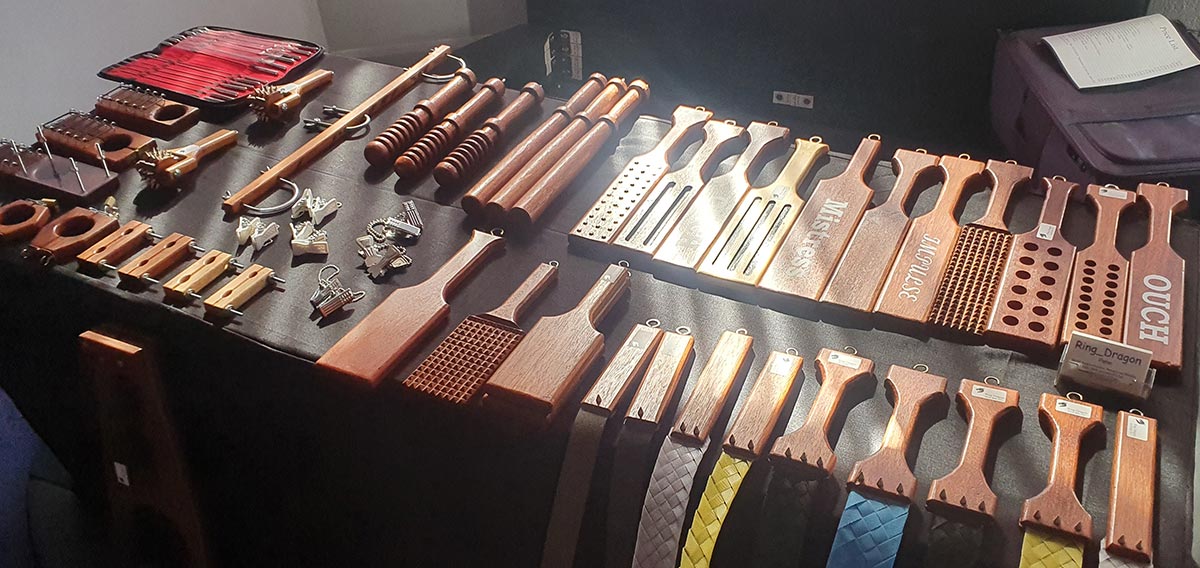 ---
Kirgi's Creations had so many glow in the dark items on display they almost lit the room by themselves! No wonder the stall was located in Club Fusion's UV room. There was rope, impact toys, clothing, and glowing crown of thorns headpieces made from little fluorescent penises!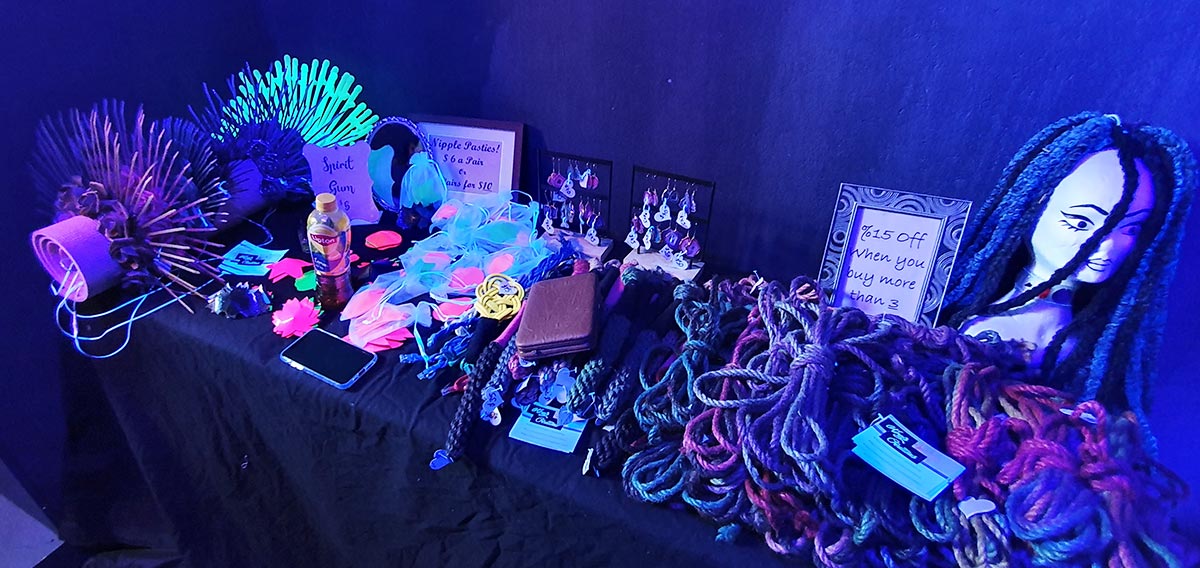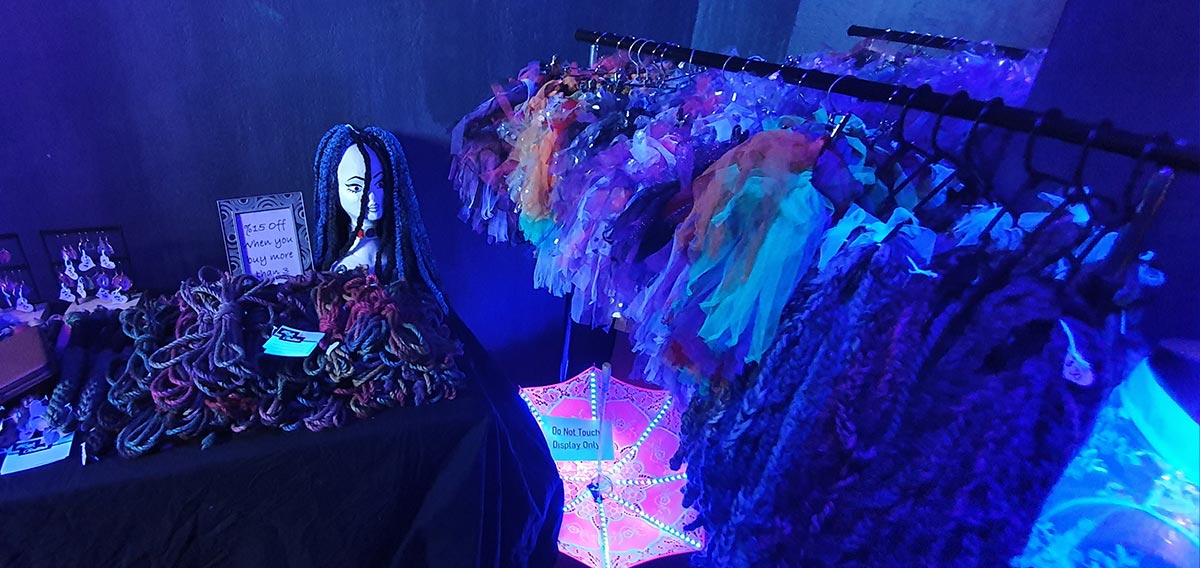 ---
ShoeMe had a range of their kinky shoes on display with plenty of patent leather and long black boots on view amongst their collection.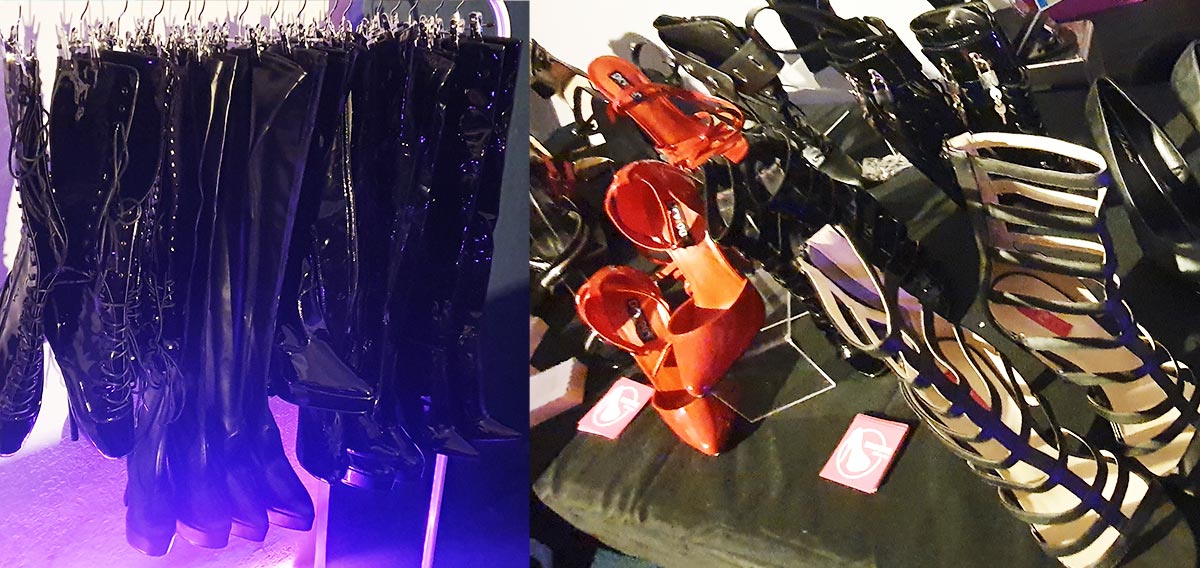 ---
Everybody Loves Feet made the perfect stall companion to ShoeMe in one of the upstairs rooms. Whilst ShoeMe were helping people find the perfect footwear Everybody Loves Feet were offering insights into the world of foot fetishism. They host foot fetish parties at Club Fusion here in Sydney where kinksters can indulge exclusively in this fetish in the company of like minded folk.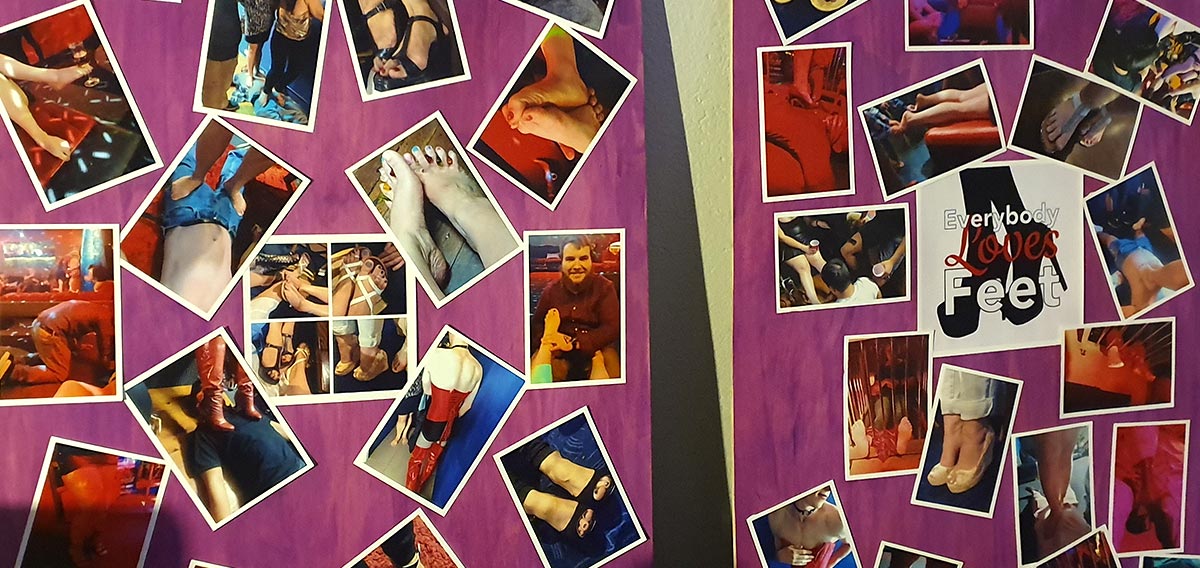 ---
Vex was lighting up the room as always with his fluroescent rope and impact toys. He's also creating an ever expanding array of wooden paddles with words carved into the blades. If you get the chance to see some of his images of rope bondage using his fluoro rope they're most impressive.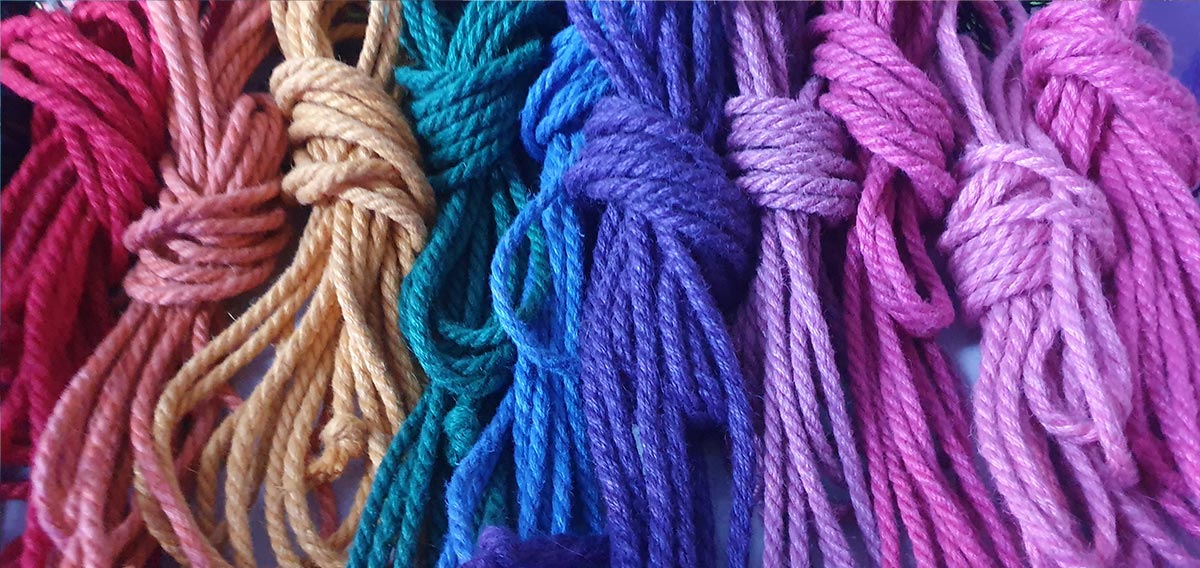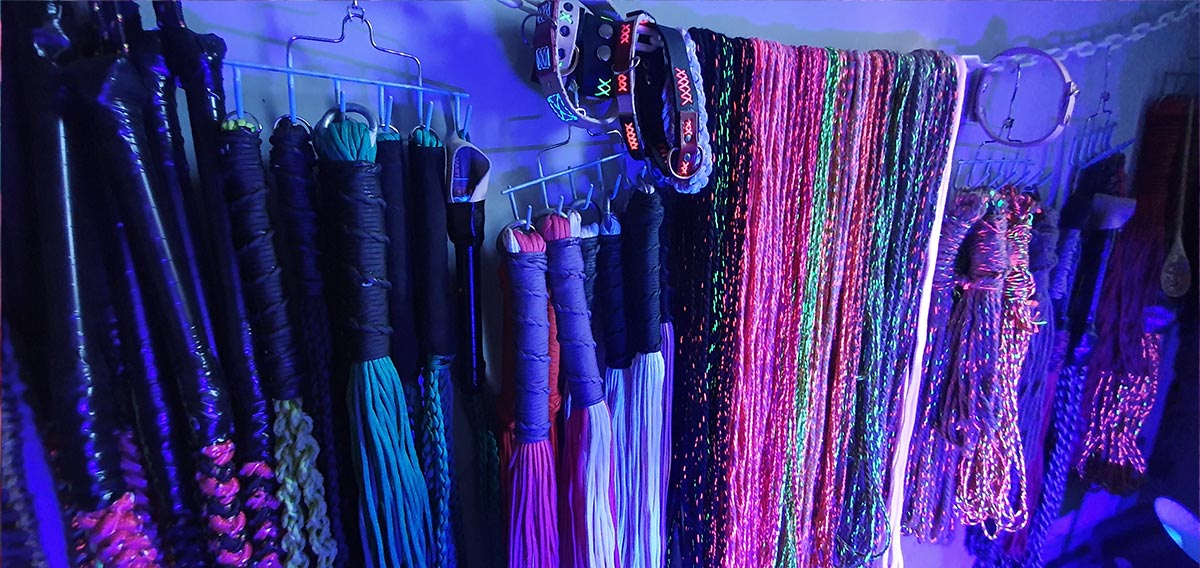 ---
Ki Art are one of the best known candle makers in the local kink scene. Their stall was up on the main stage and had a range of candles in a rainbow of colours including some with kink artwork applied to the body of the candle. It seems almost a shame to have to watch them melt.
---
Blake's Floggers had a small but fascinating array of floggers made from synthetic rope. It shows there's more to rope than bondage...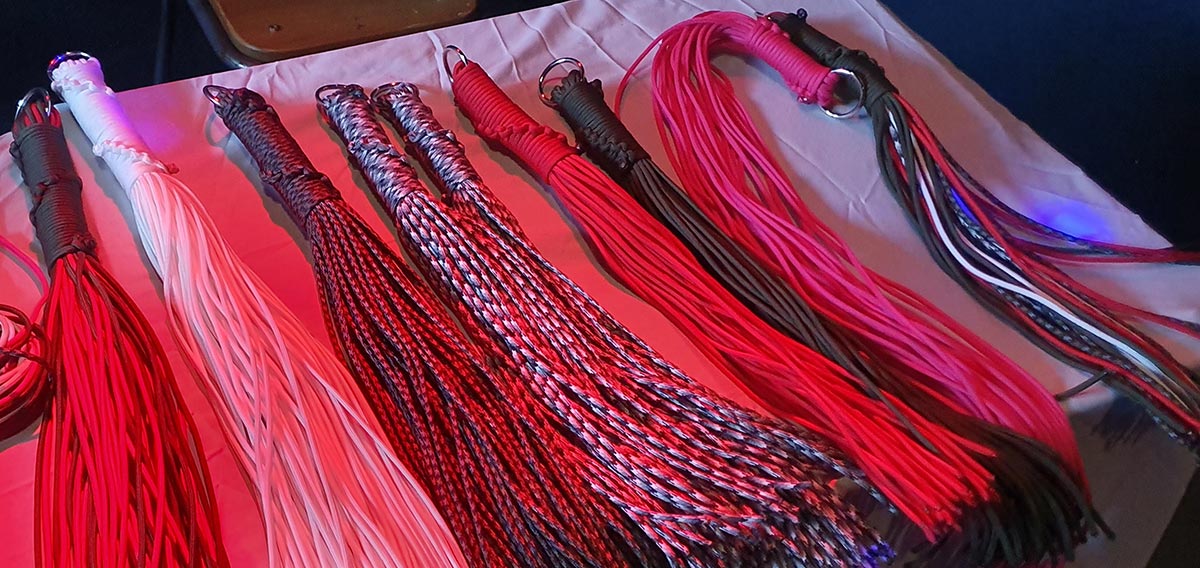 ---
From the fabulous team who bring us the After DARQ Fetish Market as well as the regular DARQ.BDSM and Darq Pink parties comes DARQ Couture, which had a small selection from their upcoming clothing range on display. DARQ Couture is based at Club Fusion and specialises in fetish, corsetry, steampunk, gothic, punk, industrial and alternative wear.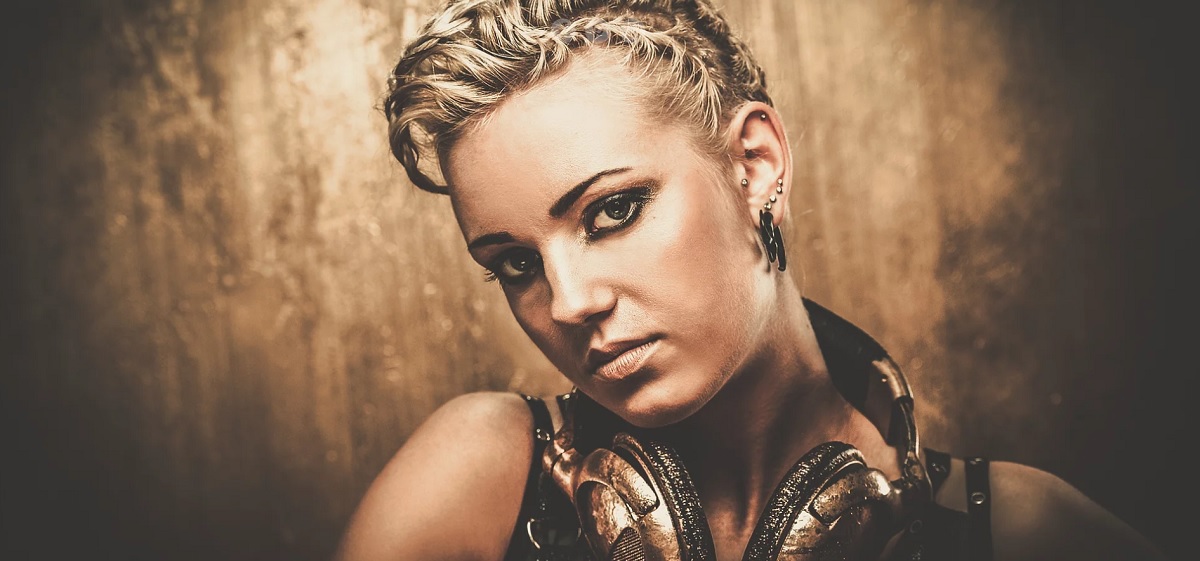 ---
The kink art world was well represented at the market with three artists and one photographer exhibiting their work.
Hey Weeirdo - Art by Amie Wee had a great collection of artworks on display. The budding art critic in me came up with the phrase "Kink pop-art with a touch of charmingly delightful absurdism" to describe it.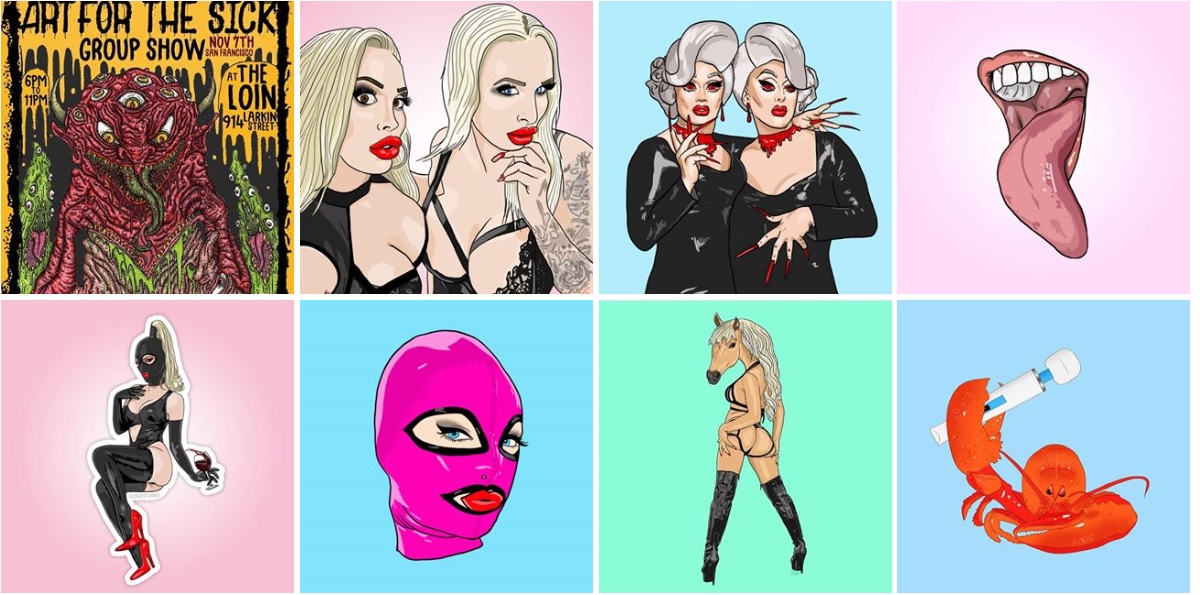 ---
Azrielle de Vor had a range of spectacular kink related artworks on display in the Leopard Lounge, using a range of media and styles. If only the high heels in the middle image below actually existed... hmmm :)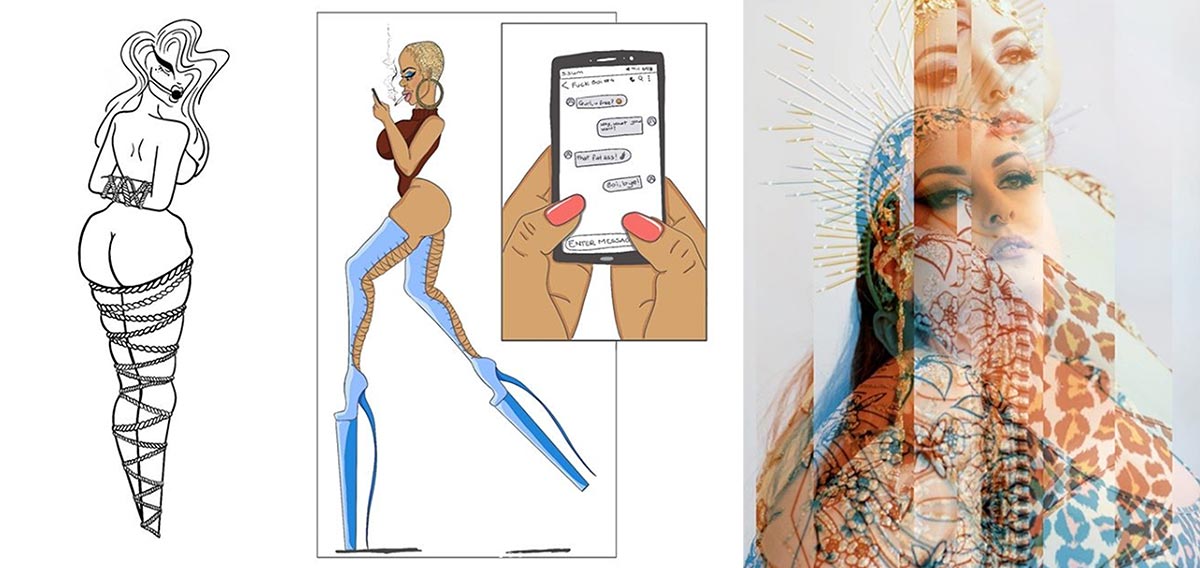 ---
illumizar
was sharing the Leopard Lounge with Azrielle de Vor and displaying some of his eye catching artworks. He also makes some amazing three dimensional pieces which you can see on his Instagram page, including a very cool eyeball in a two pronged pitchfork!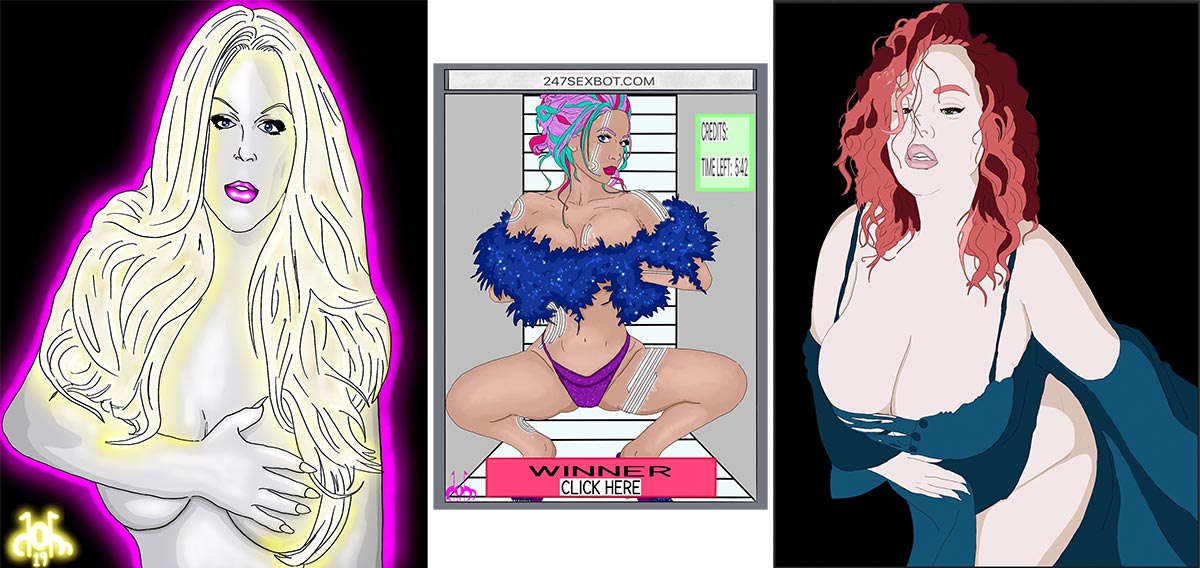 ---
Silver Nitrate Photography is one of Sydney most highly regarded fetish photographers, and he was there on the night in the same room as Hey Weeirdo. If you've seen promo posters for many of Sydney various fetish events you've probably seen some of Silver Nitrate's stunning fetish photography.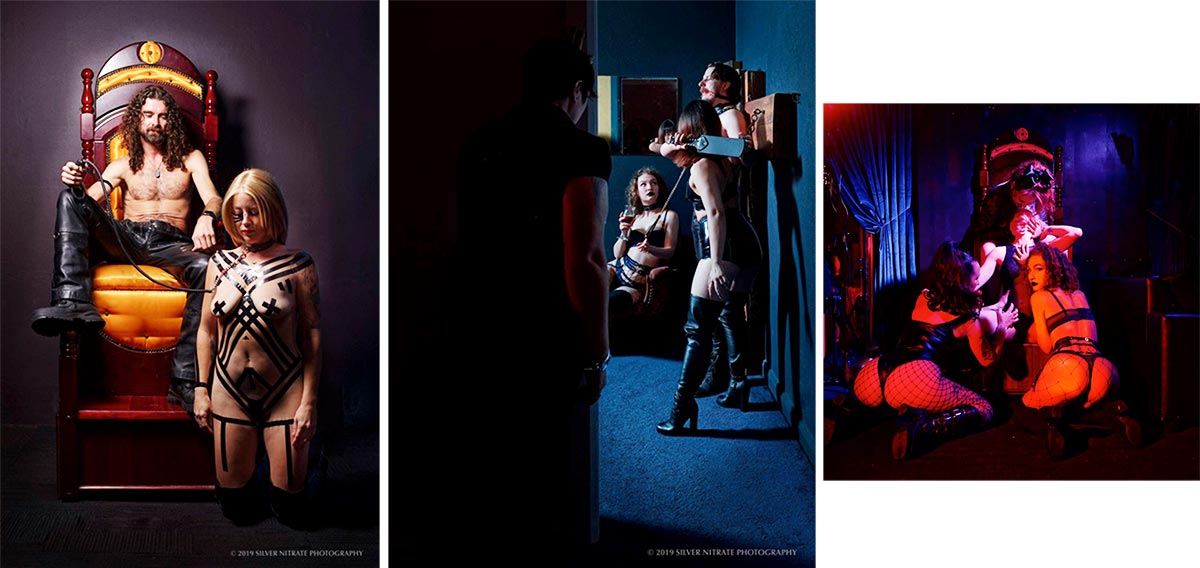 ---
And finally me - MissEmm! I had my collection of wooden paddles and canes on display in the main room and spent a delightful evening chatting to people about the wonders of wooden toys.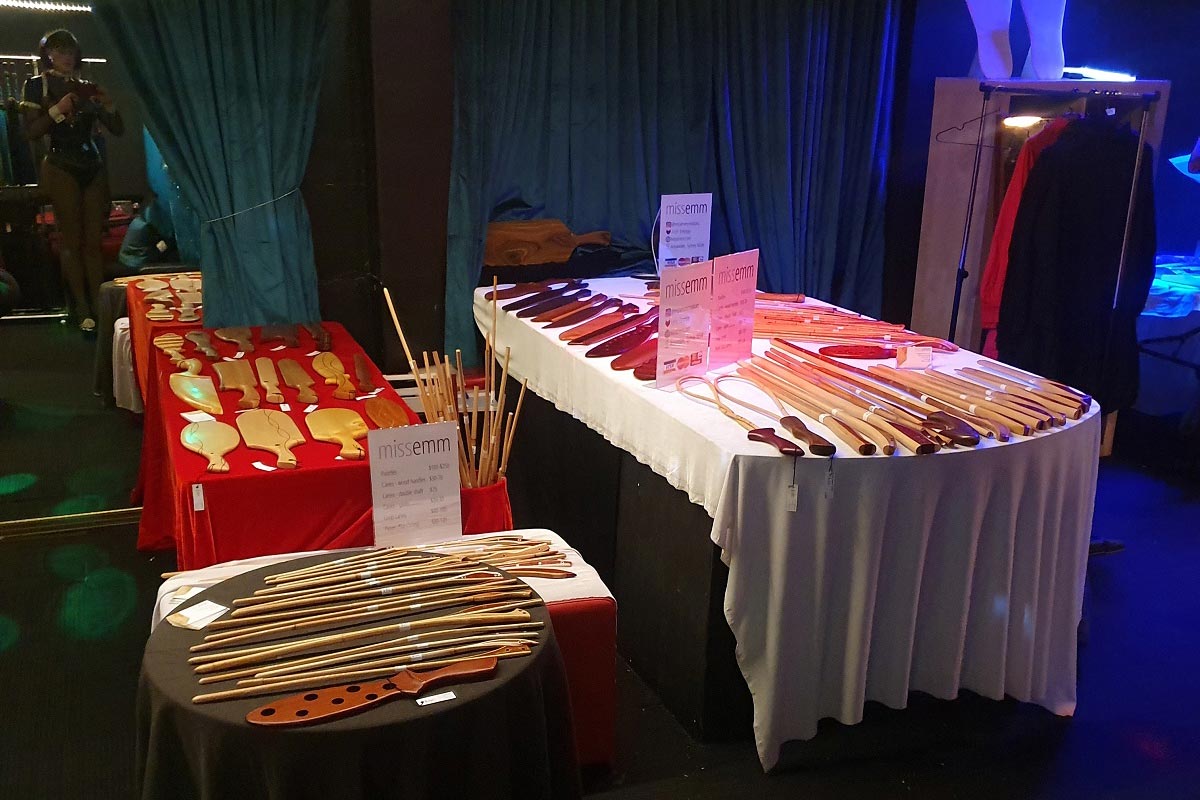 That's all for this market tour. I hope you've enjoyed reading about all the local artisans we have here in Sydney. I look forward to seeing you at the next After DARQ Fetish Market on Friday 7th February 2020.