I spent today at the Sanctuary Fetish Market in Annandale Sydney, along with six other stall holders and a small but enthusiastic group of visitors. January is often a quiet month at the market but those who came along had a great time checking out the wide array of kinky goodness for sale.
A few of my paddles, canes and loop canes found new homes during the day, including this super-long knife shaped Mulga spanking paddle. Thank you to everyone who stopped by to have a chat about paddles, canes and woodworking.

As I was packing up I had a lovely catch-up chat with Miss Penelope Dreadful, who was at Sanctuary to run The Drum, which is held on the second Sunday of each month from 6-9pm after the Fetish Market closes. The Drum is a monthly event which provides a peer space for femtops* to get inspired, learn, play and practice, with a focus on impact play. It is also a space where subs can experiment with impact play in a supervised and supportive environment. For more information check out The Drum page on the Sanctuary website. The next Drum will be held on Sunday 10 February from 6-9pm.
*Femtops being those that identify as fem/femme/gender queer.
Below are a few photos from all the other stallholders at the January market. Most are regulars at the market so do come along and see all of their wonderful creations. The next market is on 10 February from 12-5pm at Sanctuary, 191 Parramatta Road Annandale.
Unfortunately I won't be able to attend the February Sanctuary market but will be back for the following one on Sunday 10th March.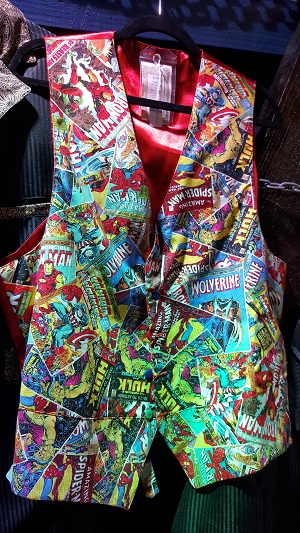 J.V.R creates beautiful handmade waistcoats with working pockets and associated accessories for the discerning gentleman. Special sized waistcoats and Victorian Era Frock Coats can be made on request too. You can get yourself measured up for a custom waistcoat whilst you're at the market.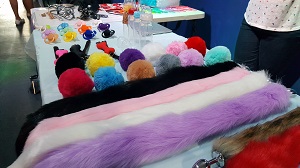 Little Kittens Cubbyhouse had an array of soft and fluffy fox tails, metal collars, fur cuffs, and ABDL accessories on display. Given their name it was no surprise to see they had some cute cat ear headpieces too.
Gold Dragon Designs were there with their table of leather goods, including paddles, collars and a very impressive leather bag with a Dia de los meurtos design on the side. I also got to see some interesting metal hand tools made from re-purposed metal such as forks and butter knives.
Glass Butterflies Leather had a vast array of floggers on display. They also make custom floggers in rabbit fur, leather, suede, rubber, deerskin, elk, kangaroo leather and lambskin. I didn't realise just how many materials were suitable for making floggers!
Isle of Femme had a great array of rope, books, candles, and other kinky things, including a UV sanitising device for cleaning your kinky toys. It was even lockable to make sure nothing interrupts the cleaning process, and no-one accidentally peeps at what you're cleaning :)
Vex had his array of rope, paddles, single tail whips, paracord floggers and other assorted paraphernalia on display downstairs, where he was also regularly cracking his single tails throughout the day. He had some rope which lit up under UV light. I have yet to see it in use, but the photos he showed me were most impressive, with rope bunnies in bondage which glowed in the darkness.