A visit to Reykjavik Pride, the Icelandic BDSM scene, and where Icelanders go to get their kink gear...
The biggest small Pride
Every year for about a week the capital of Iceland turns rainbow coloured and hosts "the biggest small Pride in the world", culminating in the Reykjavik Pride Parade through the city streets. It's one of the largest events in Iceland, attracting up to 100,000 people which is pretty impressive given Iceland's population is only 350,000.
This year's Reykjavik Pride ran from 8 to 17 August, a little longer than usual as it was both the event's 20th anniversary and the 50th anniversary of the New York Stonewall riots which are considered the most important event leading to the modern gay liberation and LGBT rights movement. There were multiple events every day, including public talks, walking tours, midday discos, dance parties and of course the Pride Parade and free concert on the last day.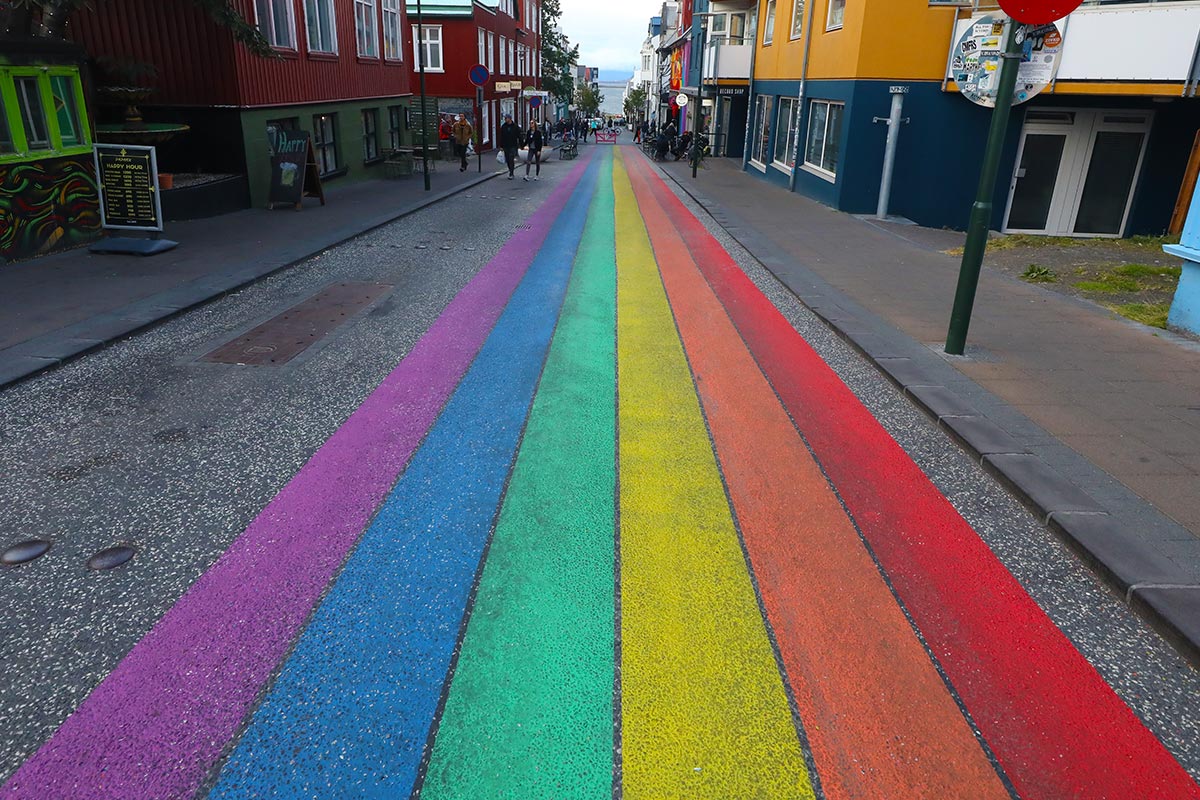 Laugavegar in downtown Reykjavik
One of the most identifiable images of Reykjavik Pride is the rainbow street. This year parts of Skólavörðustígur and Laugavegur in downtown Reykjavik were given the rainbow treatment, with members of the public allowed to join in and paint a small section before professional painters finished the job. The rainbows are left in place for the duration of Pride Week each year before being removed. However, from 2020 the Reykjavík City Council has approved a yet to be determined street to be given a permanent rainbow.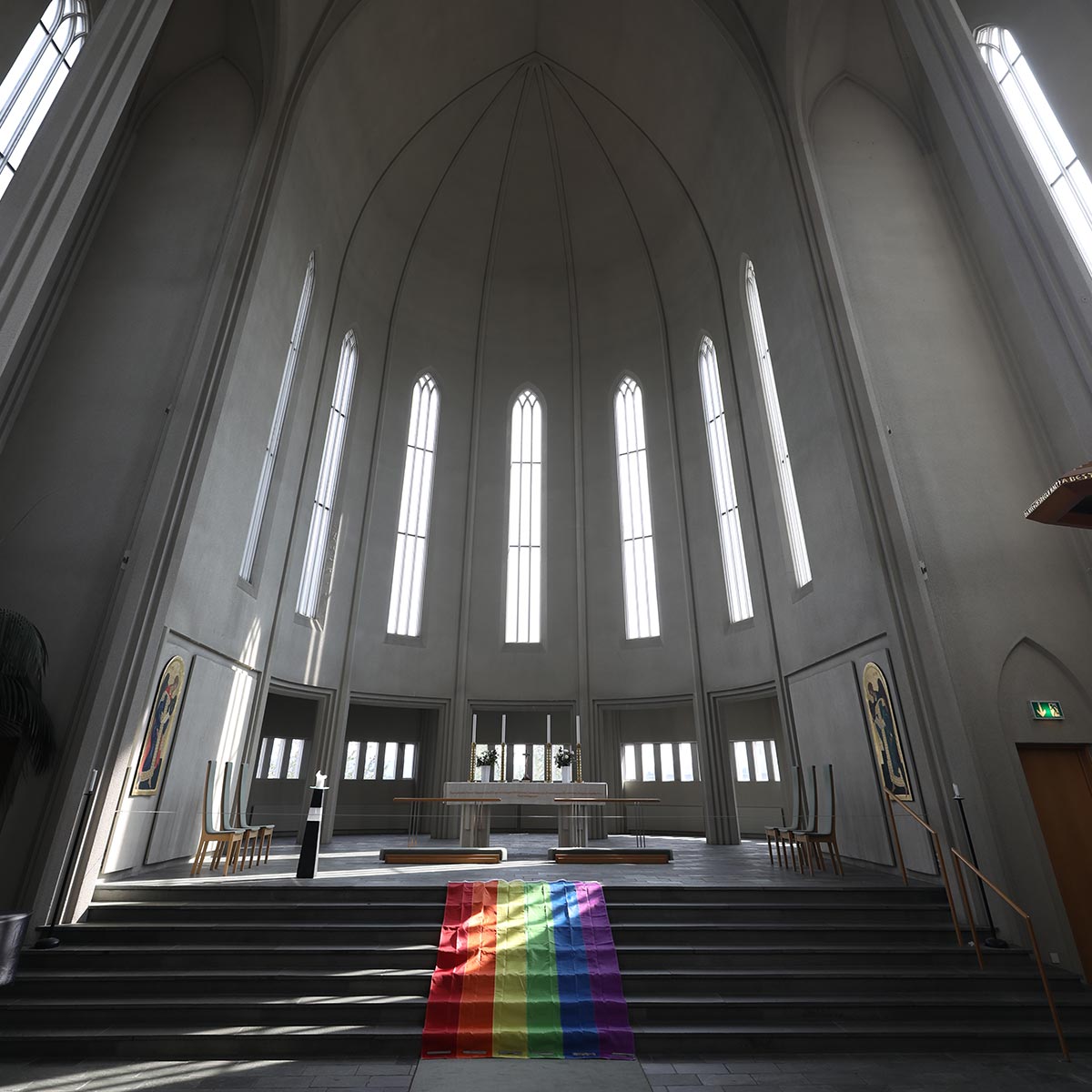 Hallgrímskirkja Church
The Reykjavik Pride Parade
The parade starts outside Hallgrímskirkja, the largest church in Reykjavik, which had a rainbow flag draped over the steps to the alter all week. Now that is a statement of inclusion if ever there was one. The church bells even played "Somewhere over the Rainbow" to mark the start of the parade! There were about a dozen organised groups participating, and individuals were welcome to join in and march along as well. Unlike the Sydney Mardi Gras there is almost no commercial presence within the parade; it is very much focused on community groups and grass roots participation.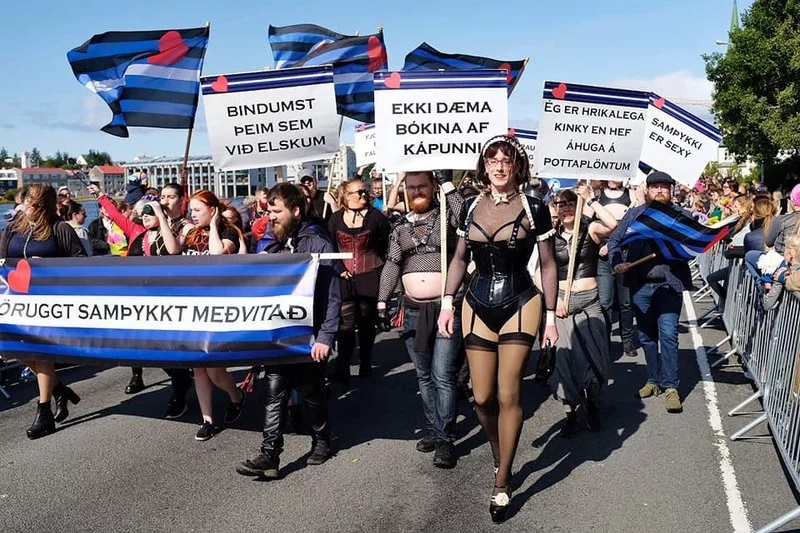 Reykjavik Pride Parade. © Fréttablaðið
After leaving Hallgrímskirkja the parade follows a 2km route through the centre of Reykjavik. Some of the larger groups in the parade had floats on the back of flatbed trucks. The local roller derby clubs skated along on their roller skates. The local BDSM community had a group of around 25 people participating, myself included. The group walked the route carrying banners and flags, followed along by a six-wheeled quad bike carrying everyone's bags and jumpers to the end of the parade.
The BDSM group's banners were charmingly quirky - my favourite translated as "I'm for BDSM but also knitting". With strong winds blowing along much of the route I was impressed all the signs made it to the end in one piece.
Walking along with the BDSM group were two members of BDSM inspired techno industrial punk rock band Hatari, Iceland's entrant in this year's Eurovision Song Contest.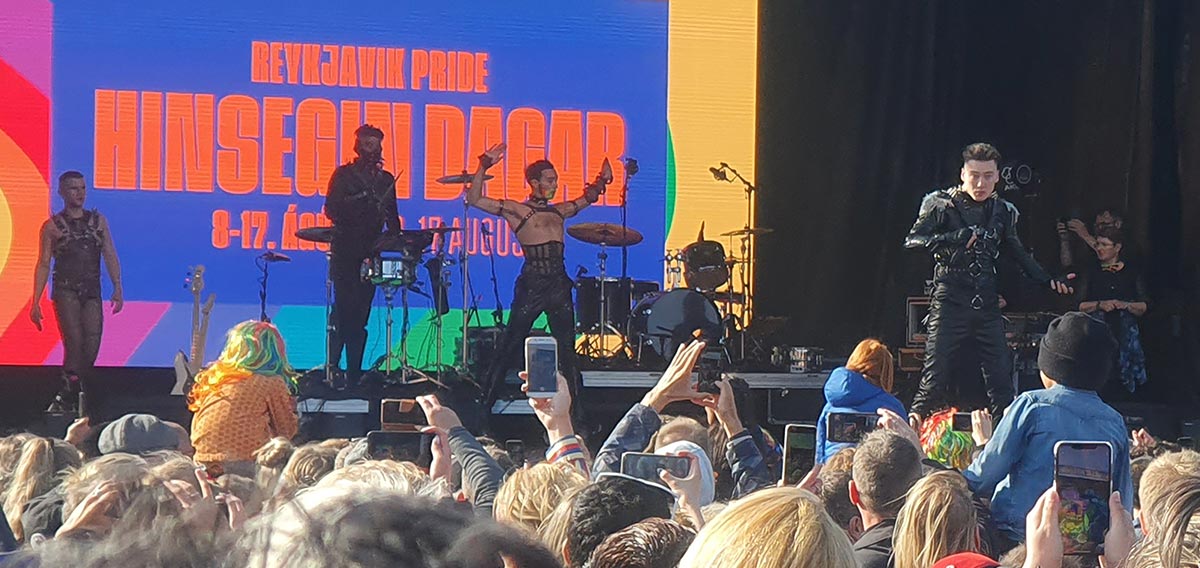 Hatari performing at the Pride outdoor concert in Hljómskálagarður park
After the parade the quad bike was returned to its day job driving across glaciers and everyone else stayed for the free concert in the park for participants and spectators, including a couple of songs from Hatari, who were definitely crowd favourites amongst young and old. Even little kids on their parents' shoulders were waving and bopping along with the nation's favourite industrial punk rockers.
The Icelandic kink scene
Reykjavik hosts regular munches and a BDSM play party about once a month called RMSSSDLP, or in English RMRSFSAPP - Reykjavík Munch Really Super Fun Spectacular Awesome Play Party! There's also a munch held in Akureyri in the north of the country. The local kink community is very friendly and happy to welcome overseas kinksters to their events. They typically get one or two foreign visitors each month.
In many ways the Icelandic scene is not dissimilar to what you might experience elsewhere in the world. Fetlife is the primary online forum for the Icelandic kink community. Most people start off going to munches before attending a play party. Parties are full of people socialising, playing, and generally having a good time. And they have occasional rope workshops and peer practice sessions. There tends to be more scene activity in winter than summer as many Icelanders take their holidays in summer and head to Europe. Given the small population it's no surprise that the kink scene is smaller in number than you may find elsewhere. But as we know it's not the size of your community that matters, it's what you do with it that counts. And on this front Iceland sets the benchmark for a small but incredibly friendly, responsible, and welcoming BDSM community.
If you find yourself planning a trip to Iceland check out the BDSM in Iceland group on Fetlife. Although Icelanders use both Icelandic and English on Fetlife it is worth noting that nearly everyone is fluent in English. I cannot speak highly enough of my experiences meeting members of the local kink community, and look forward to returning in the not too distant future.
Buying kink toys and fetish wear in Iceland - not so easy
Naturally I had a few conversations about kink toys when I attended the August RMSSSDLP party. There is essentially nothing available in Iceland, so people either buy online or go shopping in the UK or Germany. Given the complete lack of local options the array of toys on show at the party was all the more impressive.
A Blackheart Sassafras paddle now residing in Iceland
One of my Blackheart Sassafras paddles (pictured above) managed to find a new home with a local kinkster during my visit, and I am confident in saying it is now probably the only Australian wooden paddle in all of Iceland!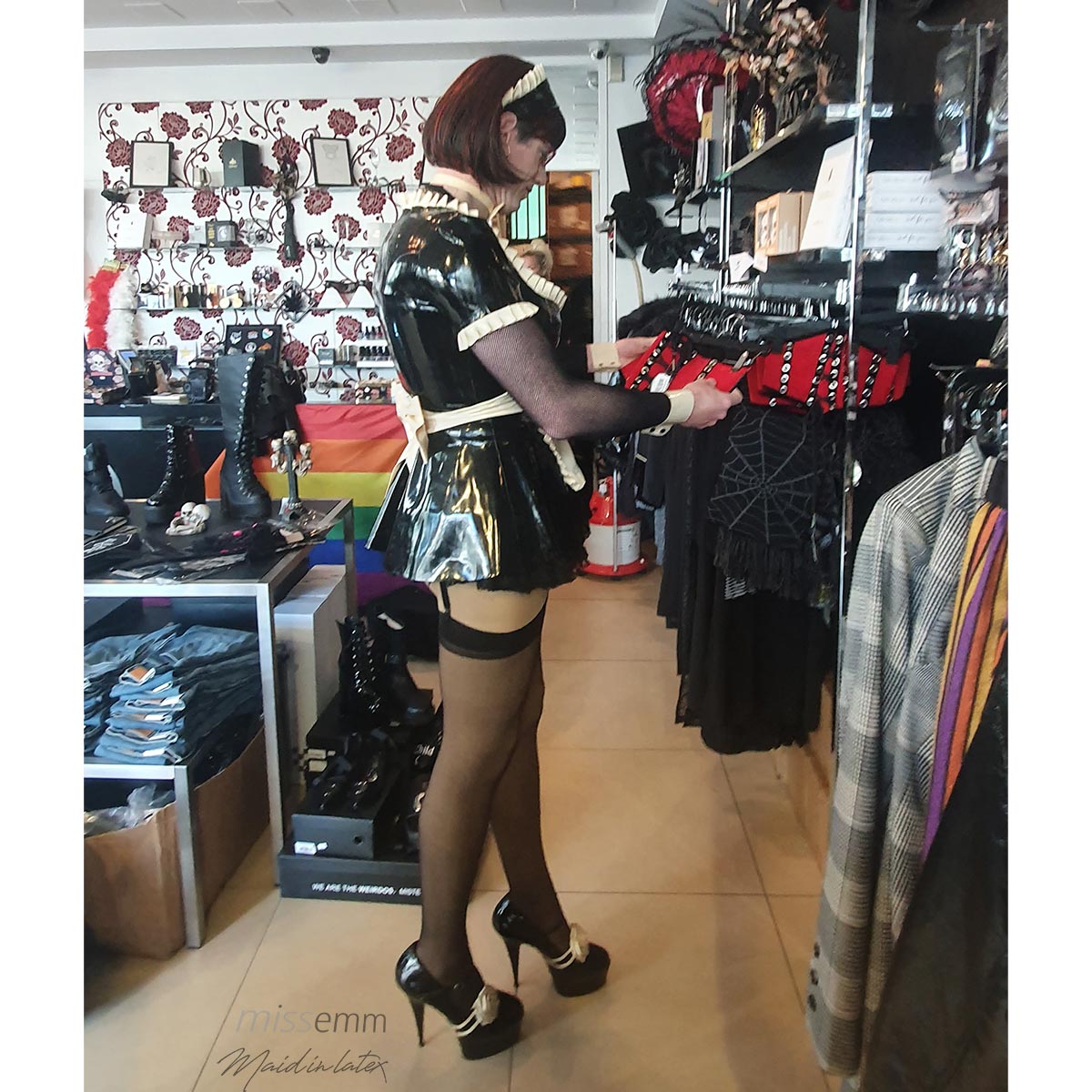 Shopping in Rokk & Rómantík, Iceland's only gothic clothing shop
The lack of local options also applies to fetish wear, with the exception of the fabulous and very well stocked Rokk & Rómantík gothic clothing shop, located in downtown Reykjavik. They had a mix of local and imported clothing, shoes, and accessories for every goth occasion. As was the case with almost every shop I visited in Iceland the staff were were very friendly, knowledgeable, and helpful.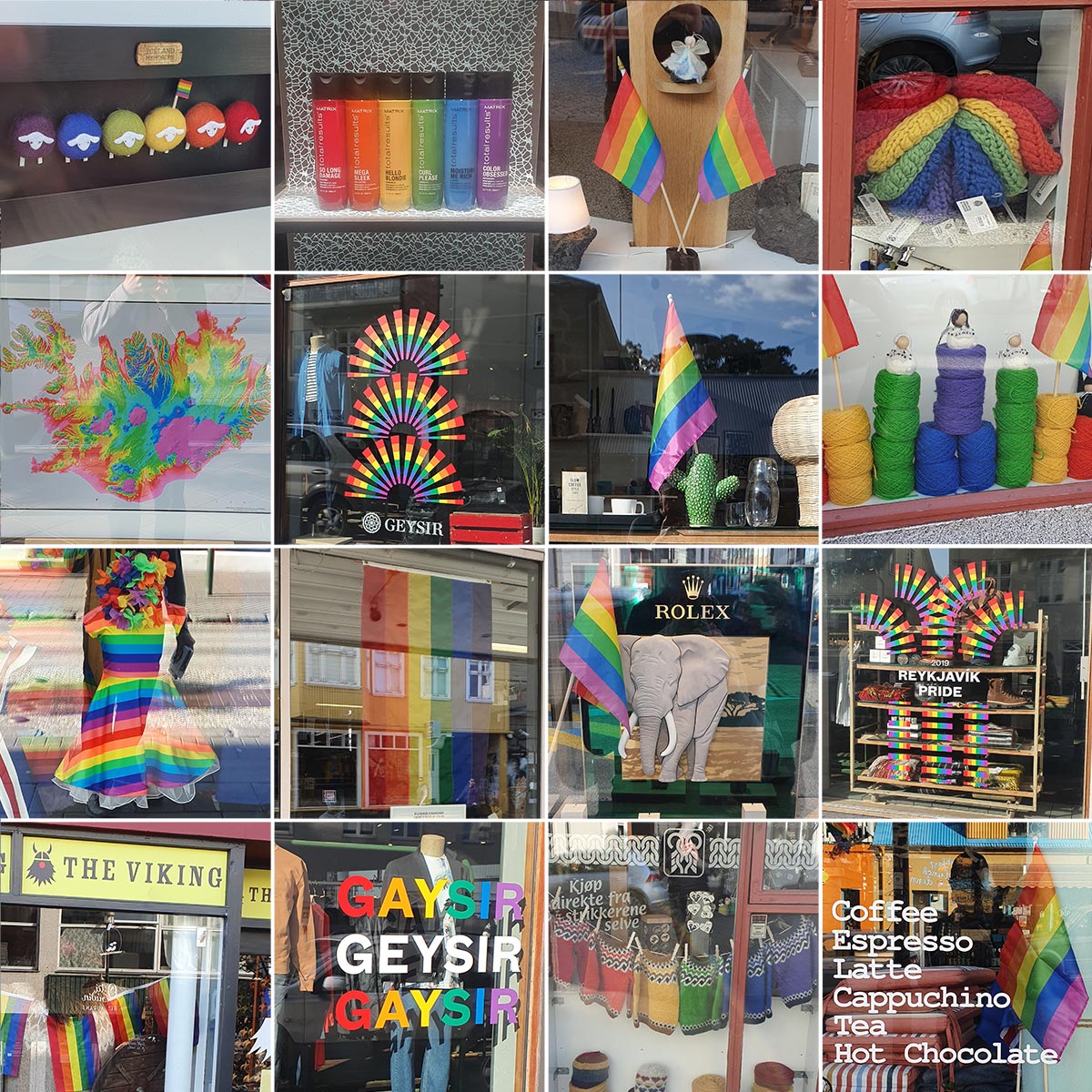 The shop windows of Reykjavik
What Icelandic shops lack in kink toys and fetish wear they more than make up for in rainbows! Nearly every retailer in Reykjavik found a way to put a rainbow in their window during Pride Week, whether it be a flag, stickers, clothing, balls of wool, or a series of classic Icelandic knitted jumpers. Red, orange, yellow, green, blue and purple is definitely the new black.
Next year's Reykjavik Pride Week is scheduled for 4 to 9 August 2020. Visit the official website here.