This time last year I had just returned from attending the GEAR'd Adelaide Fetish Market Hall. Like so many other activities this year's GEAR'd Adelaide had to be cancelled due to covid restrictions. It had been scheduled to run from 19-22 November 2020. No doubt it'll be back bigger and better next year. In the meantime I thought I'd have a look back to last year's event and start getting inspired for 2021. I hope you'll join me.
What is GEAR'd Adelaide all about?
GEAR'd Adelaide is an annual multi-day fetish event hosted by Adelaide Leather & Fetish. AL&F is a non-profit organisation devoted to bringing the Leather people and fellow kinksters (and their admirers) of Adelaide together.
The four days feature the Mr and Ms Adelaide Leather competition, Fetish Market Hall, Recovery BBQ and the signature event of the weekend the BacKDoor Dance Party to keep you busy. Most of the event is usually centred around the charming Wakefield Hotel on the edge of the Adelaide CBD.
The majority of attendees are from South Australia but the event traditionally attracts a good number of visitors from interstate and overseas. A healthy contingent flew over from the USA in 2019, which really added to the sense of occasion.
The 2019 Fetish Market Hall
I attended last year's Fetish Market Hall held on a Saturday afternoon at the Wakefield Hotel. There were 13 stalls to choose from with most being Adelaide locals and a couple from Melbourne plus myself from Sydney. Food and drinks were readily available from the bar on the day for the thirsty and peckish, plus plenty of seating for those who needed a break after doing some serious shopping :)
Many visitors really made a day of it and stayed for hours catching up with friends as well as checking out all the kinky goodies on display. It was great to see so many attendees coming dressed in their kink gear too. The middle of the day in the middle of Adelaide is a perfectly good time and place to wear latex and leather!
Now to the market. Here's a rundown of all the stalls...
Demasque Magazine is an Australian magazine dedicated to the BDSM, fetish, and kink communities. Its creators are based in Melbourne, and travelled all the way to Adelaide for GEAR'd. The magazine started life as a Kickstarter campaign in 2018 and is now up to issue 9. It contains some stunning fetish photography as well as articles on all manner of kink related topics. In the online age it is wonderful to see a local hard copy publication thriving.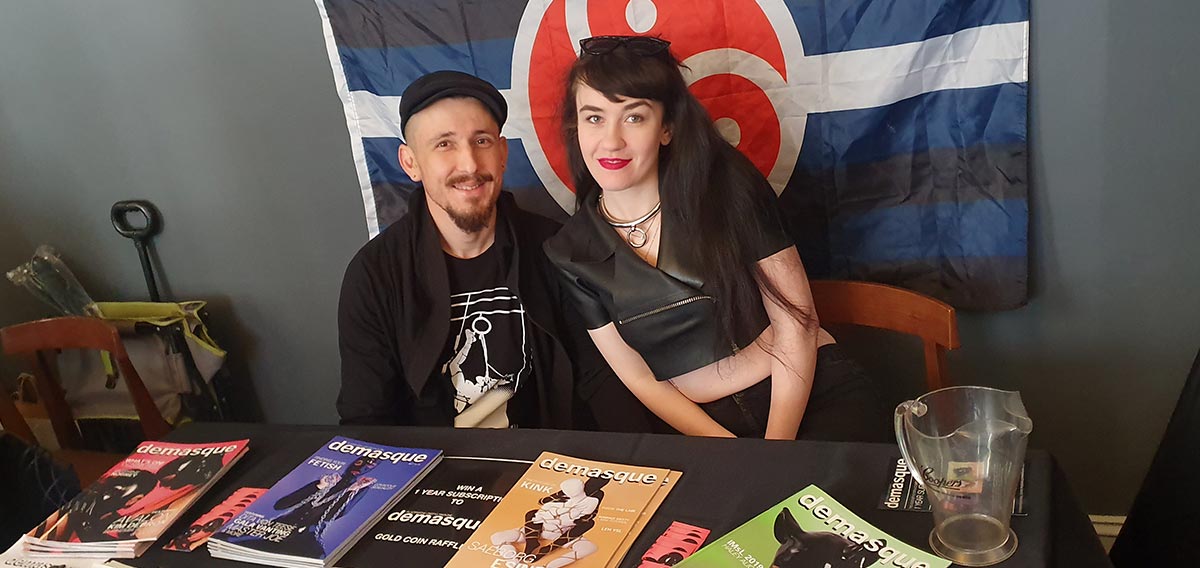 ---
Little House of Horus is a local Adelaide creator of some of the finest alternative, steampunk, and fetish leatherwork you will see anywhere. The stall had a huge variety of work on display including clothing, bags, collars, harnesses, restraints, and tags. As you can see from the photos below the work is not limited to the traditional black, but rather they create pieces in an amazing array of colourful leather.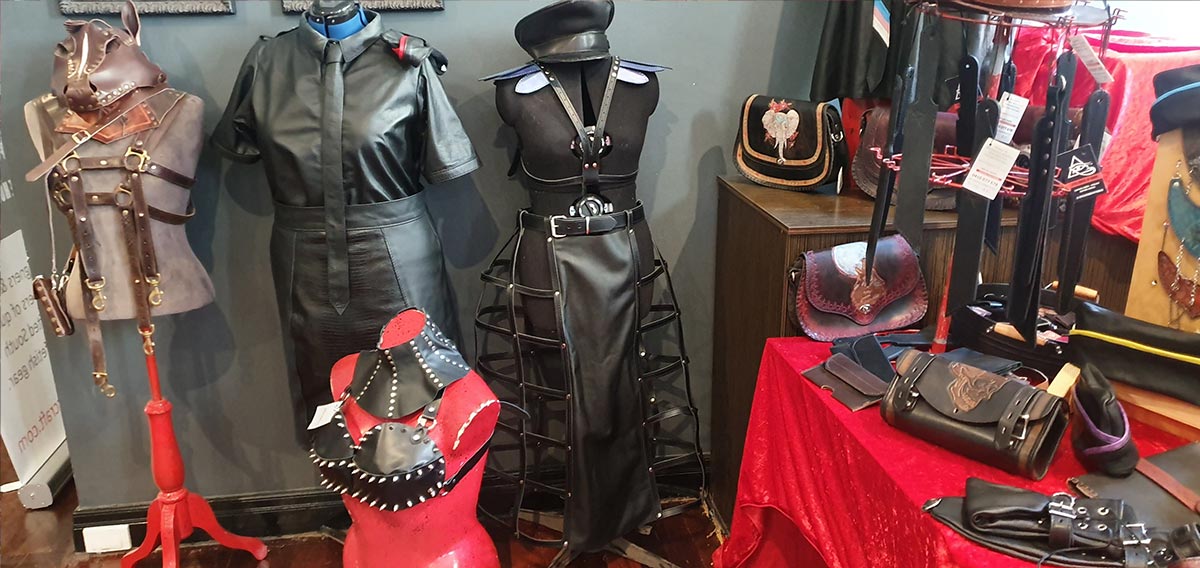 ---
Peer Rope Adelaide is a community based social club focussing on shibari. They run rope classes for beginners and seasoned riggers, and periodically host visiting riggers for performances. Their stall had a selection of jute rope, Peer Rope Adelaide t-shirts, candles for wax play in eleven different colours, and some beautiful ceramic flowers.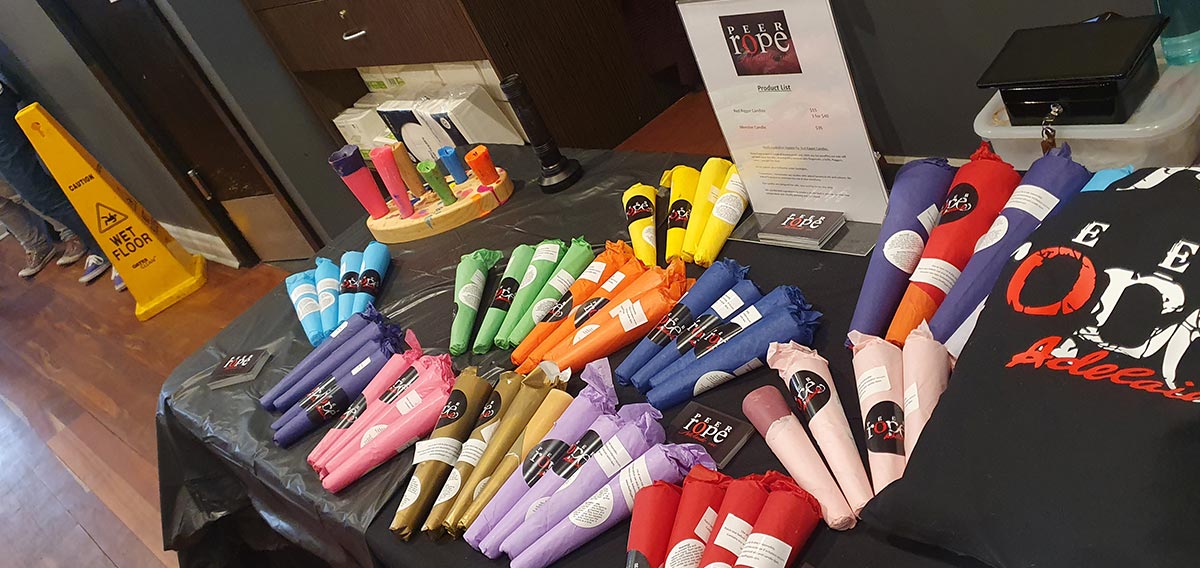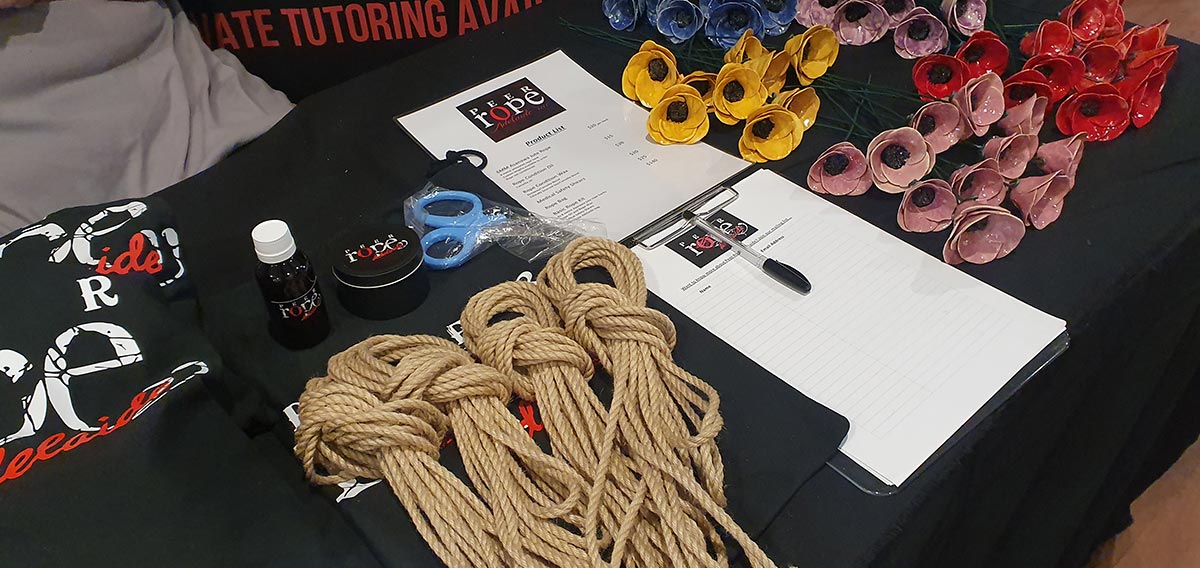 ---
Personable Shibari came all the way from Melbourne with a range of useful items for the rope bondage enthusiast including jute rope, wax and oil for treating rope, shears, metal suspension rings (both round and in other rather cool shapes), and lots of books on bondage too.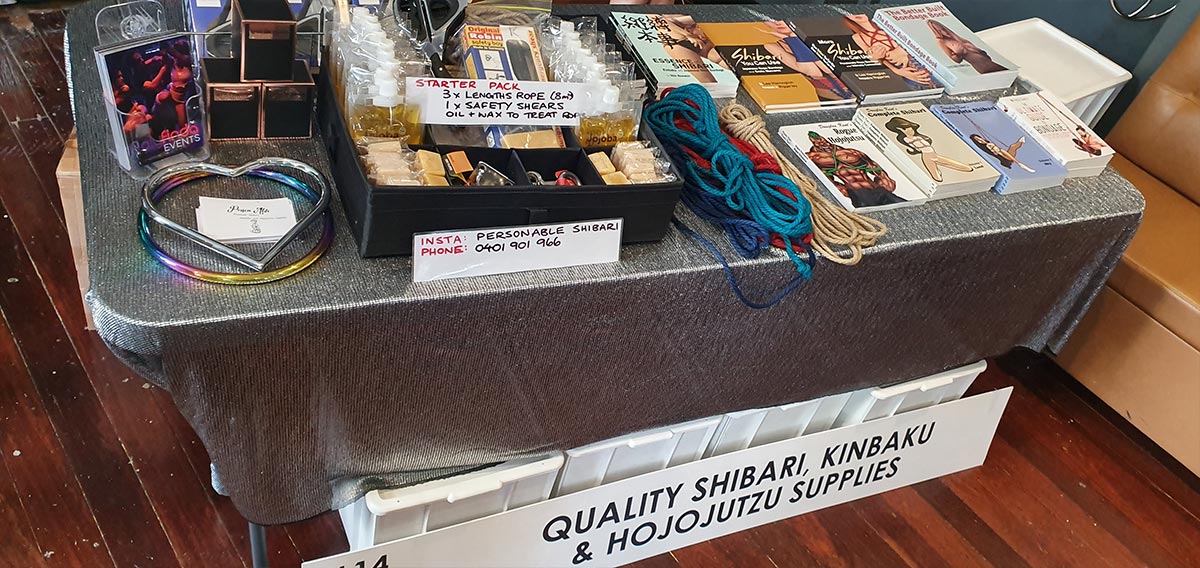 ---
Knotbound is a registered charity focusing on advancing health, education and culture within the BDSM community. To quote their mission statement...
To provide support services and promote respect, tolerance and social inclusion for people who identify within the BDSM lifestyle and sexuality so they can participate fully in all aspects of life in Australia without fear of discrimination. This is furthered by working with organisations outside of BDSM communities such as community health organisations, law enforcement, legal aid, local councils and other public service organisations to educate and partner in providing support and services.
The Knotbound members at GEAR'd spent the day sharing their collective knowledge and wisdom from their extensive experience as part of the Australian leather and kink communities.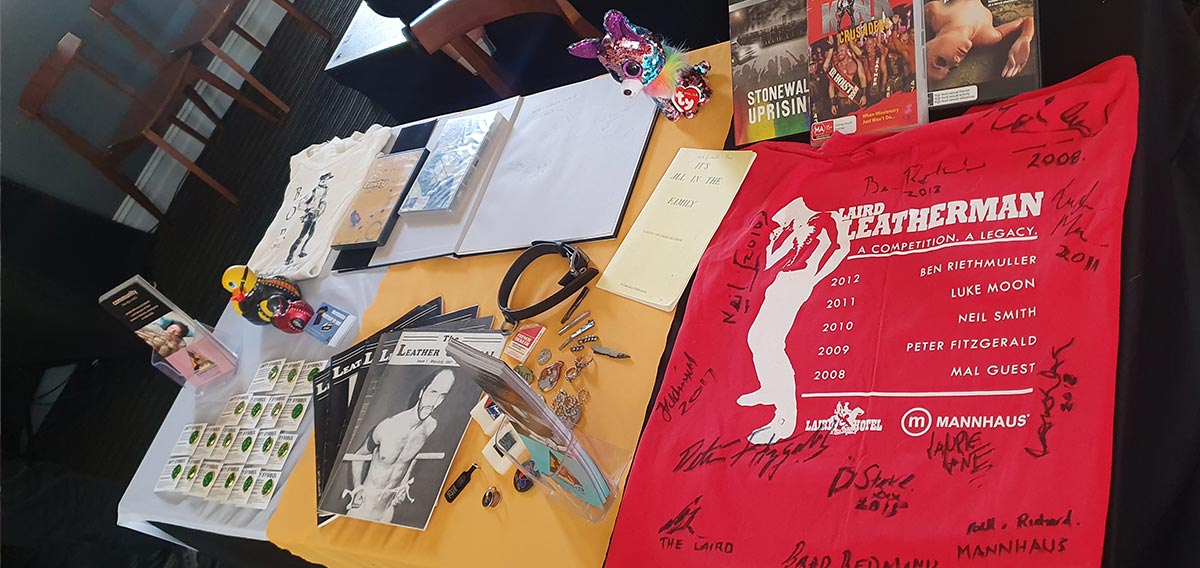 ---
ModBodz is a relatively new name in the kink scene with a totally original new product designed for needle play. Topperz are small decorations you can put on the end of each needle. In addition to letters for creating words with your needles there are bows, bluebirds, ladybugs, lips, skulls and many others. They have also developed Nipple Stretcherz for those with existing nipple piercings.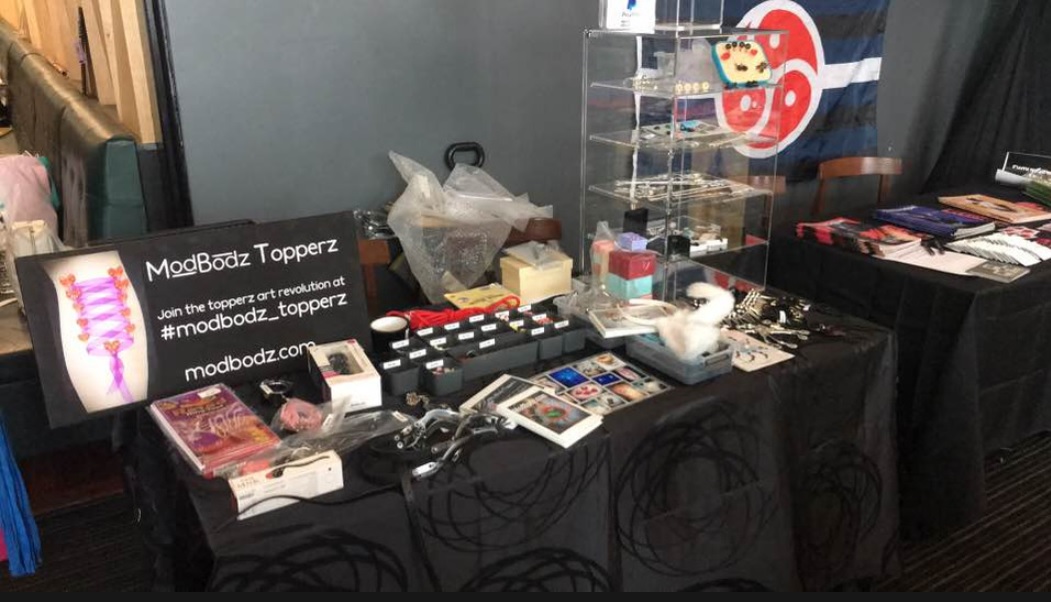 ---
Adult Bliss Erotic Boutique had all sorts of kinky goodies for sale including latexwear, leather restraints, and impact toys. They have a retail shop in Adelaide as well as an online store. Even if you buy your kink gear online it is nice to know you are supporting a local business run by local kinksters.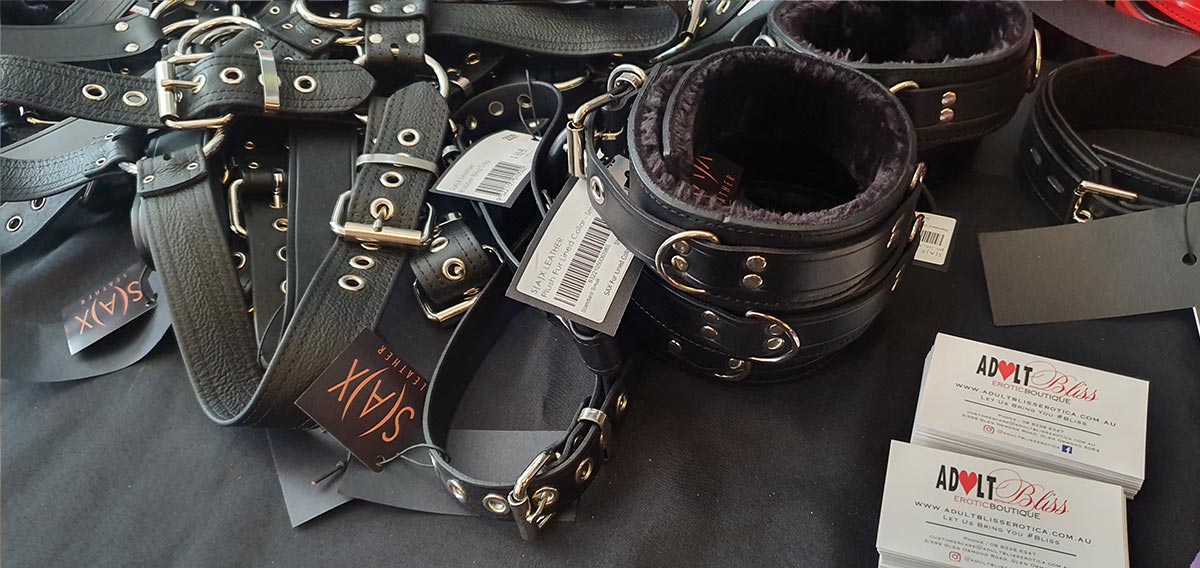 ---
Pen & Kink had a rack of t-shirts with a range of humorous kink related imagery and slogans, as well as badges, stickers and signs. There were some very witty designs, some of which were subtle enough to be fine for everyday wear.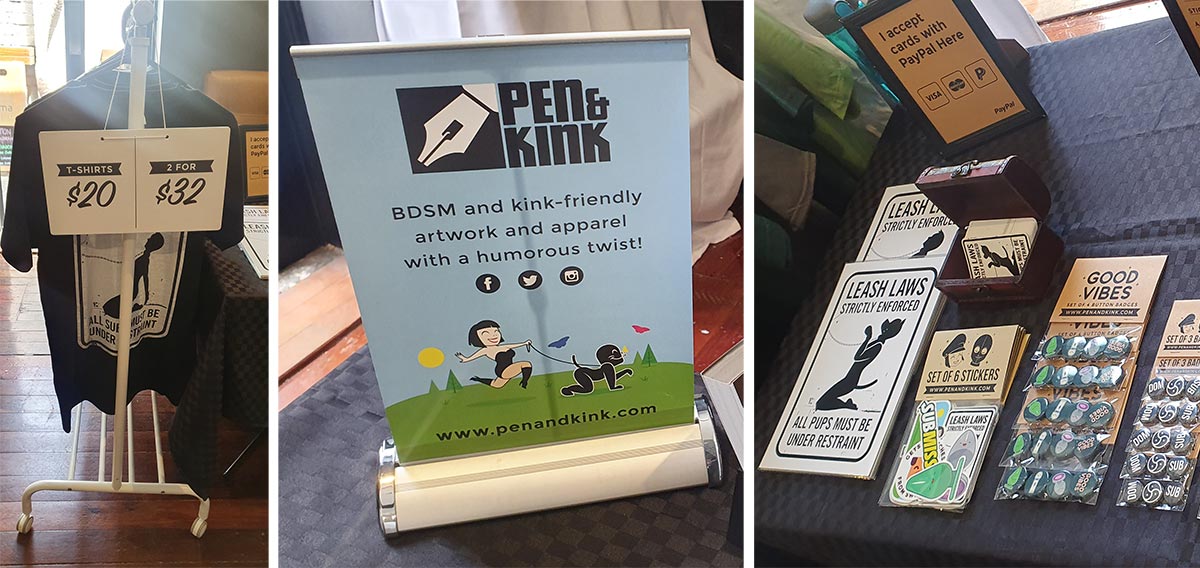 ---
A little latex by sisu is a talented local South Australian latex maker. Quite a few of her garments feature some very fine applique work which really makes them stand out from the crowd. It was refreshing to see a rack of latex wear with so many colours and not just black, black, black, red, more black, black...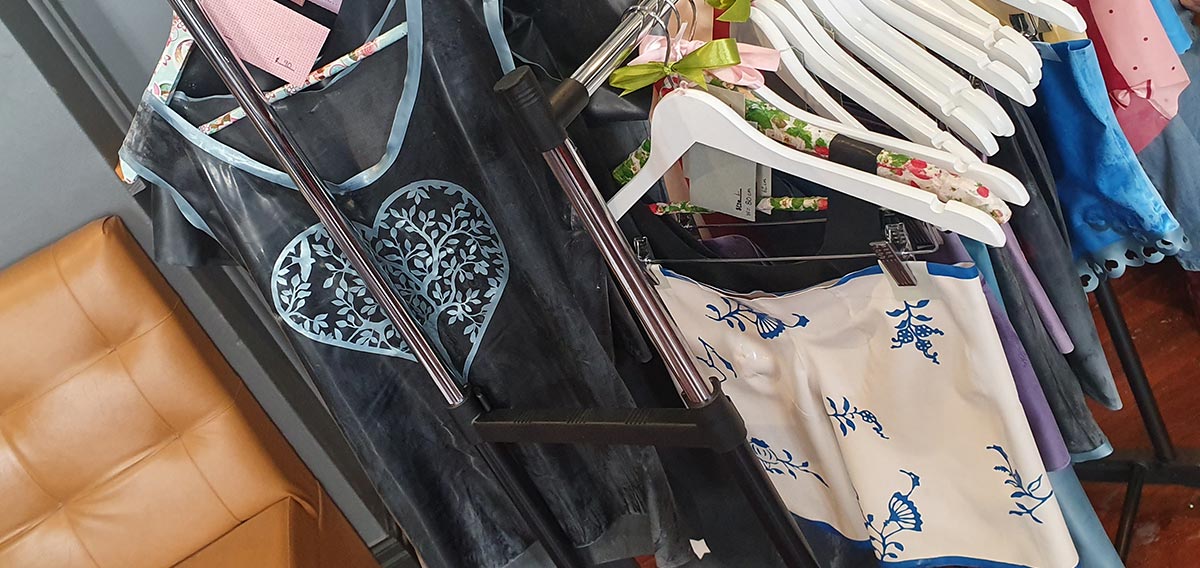 ---
Sinpins stocks enough varieties of stockings that you could probably wear a different pair everyday for a year! There were sheers, fishnets, patterns, tights, stay-ups, bodysuits and more. Definitely a one-stop hosiery shop.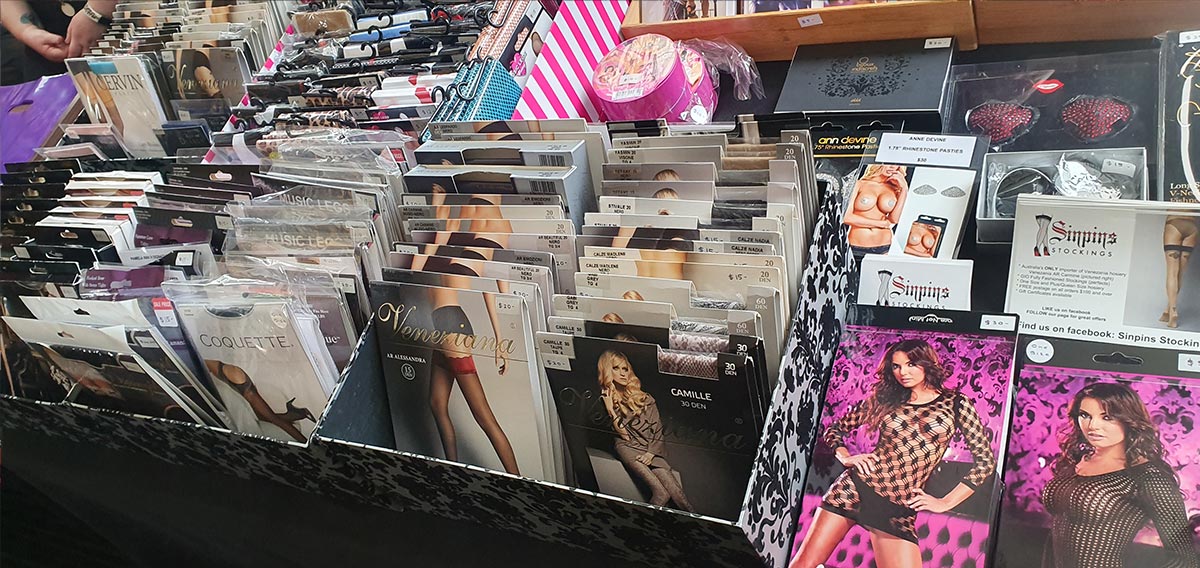 ---
Frau and Das Uberdom's table of goodness was covered in a wonderful array of toys and accessories, including floggers, perspex canes, cuffs, collars, and masks which had come all the way from Melbourne for the weekend.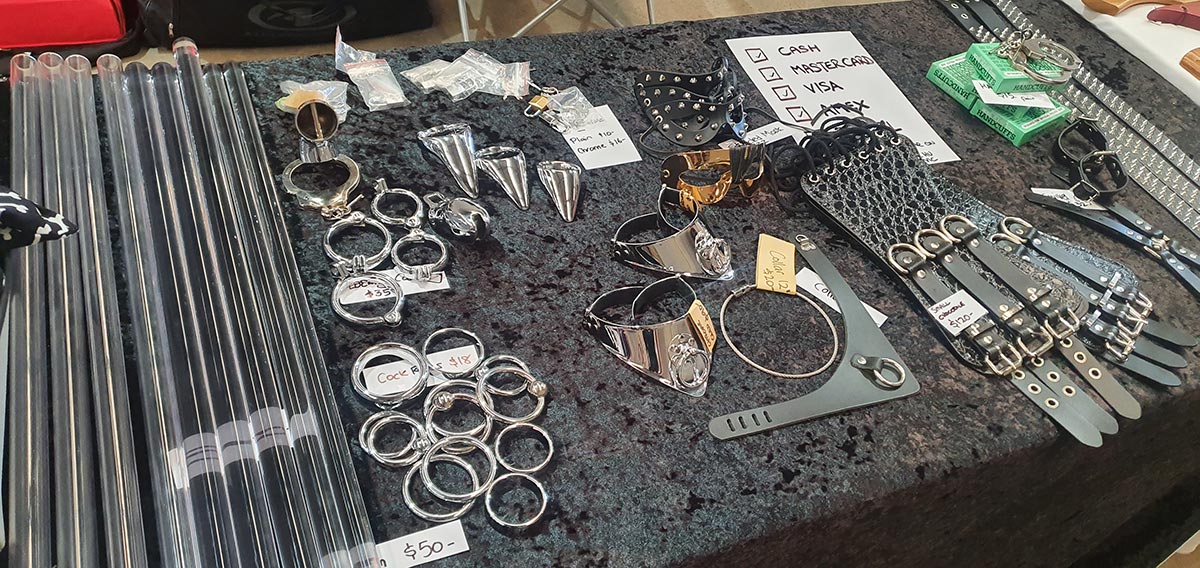 ---
SIN - South Australia's Peer Sex Worker Organisation "...is by sex workers for sex workers and offers peer support, education, information, advocacy and referral services for sex workers.All SINs services are available to sex workers via outreach, or you are welcome to visit our sex worker safe community space on South Rd.
SIN also provides information, education and representation on behalf of sex workers in SA to the general public, media, government, educational institutions and students and a whole range of community groups." Text courtesy of the SIN website.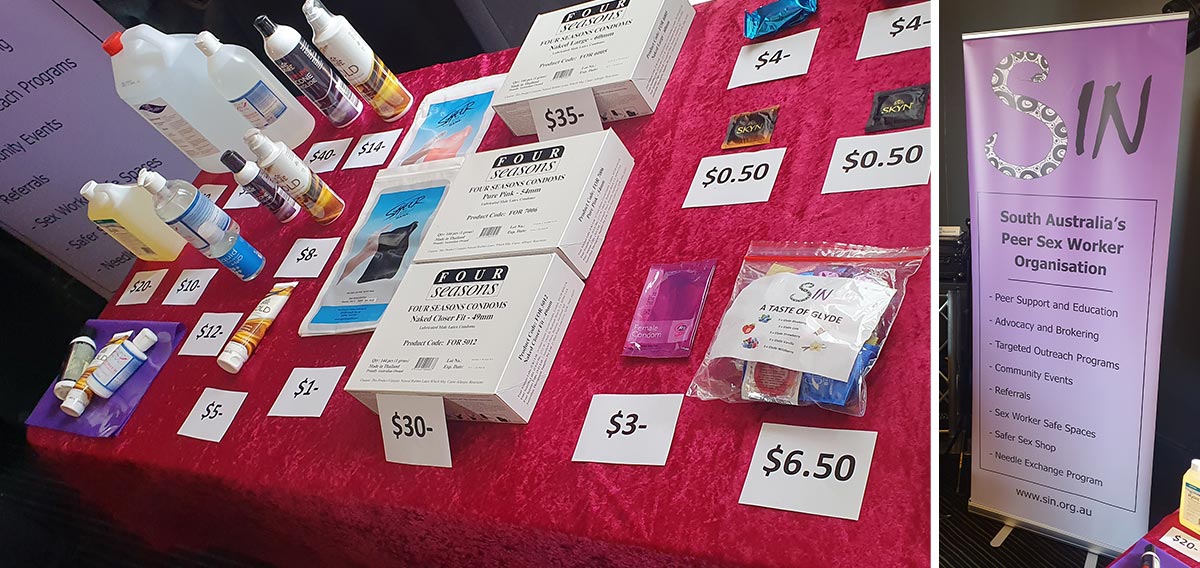 ---
SAMESH - South Australia Mobilisation + Emplowerment for Sexual Health "...was created in 2015 as part of a joint initiative between lead agency, SHINE SA and Thorne Harbour Health (formerly the Victorian AIDS Council), this innovative approach to service delivery answers a need within South Australian for community-based support for education, training and advocacy of sexual health and HIV. SAMESH is a meshing of the best parts of two organisations to create something unique and powerful specifically positioned to assist the South Australian community." Text courtesy of the SAMESH website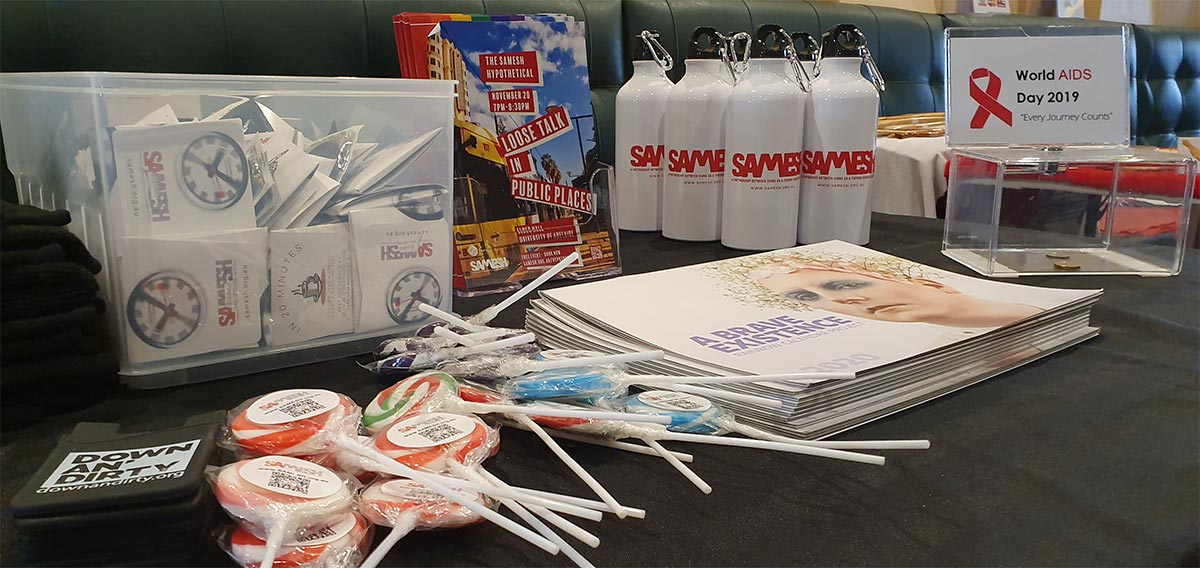 ---
And finally my stall - Miss Emm.
Over 100 wooden paddles and rattan canes and a lot of shiny latex clothing made its way with me from Sydney to Adelaide courtesy of Qantas and their very reasonably priced pre-purchased excess baggage charges!
Many paddles and canes found loving new homes during the day, and I was lucky enough to see a couple in action later that evening at a kink party. Short canes and paddles were particularly popular with the visitors from the USA who had to squeeze their purchases into suitcases and travel bags for the journey home.
Thank you so much to everyone who came along and helped make the day such an enjoyable experience, and a special thank you to the organisers who worked tirelessly to put the whole thing together and keep it running seamlessly.